Richmond Christian School girls' basketball team wins VISAA state title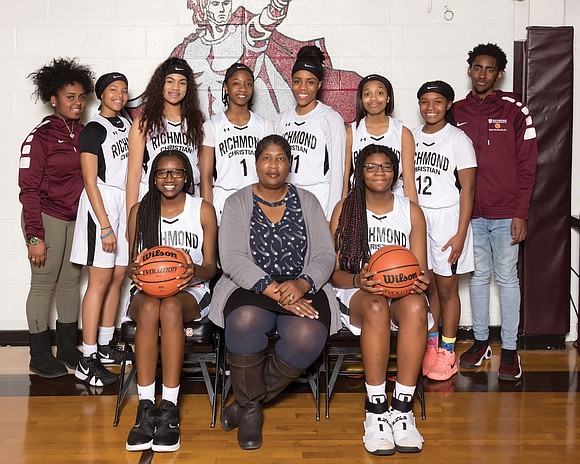 The Richmond Christian School girls' basketball team didn't even have enough players for a full 5-on-5 scrimmage this season.
Still, the Chesterfield school had enough of what it takes to win a state championship.
"We had a wealth of talent — probably five Division I (college bound) players," said Coach Pam Walker, now in her second year at the South Side school. "That's how we overcame."
It was quality, not quantity, that fueled a season-closing 19-game winning streak climaxed by the team clinching the Virginia Independent Schools Athletic Association Division 3 title.
In classic rags to riches fashion, the Warriors finished 24-2 after going 5-13 the year before.
Officially, there were eight girls on the RCS roster, counting two eighth-graders. But one of the girls, a Seventh-day Adventist worshipper, missed all Saturday games. And then there were some lingering injuries among the team that shorted the bench at times.
"The roster has eight names," Coach Walker said, "but we rarely had that many. Some games, we had as few as five healthy girls."
There were never enough players for a full scrimmage in practice.
"We improvised. We'd go 3-on-3, maybe 4-on-4, and sometimes the coaches would jump in," she said, meaning herself and assistants Tanya Outten and Al Rivers.
RCS's "Great Eight" consisted of senior Kayla Bosman, freshmen Cherese Lampkins and Prophett Sheffield, sophomores Keniya Loving, Ta'Nya Outten and Chandler Hicks plus eighth-graders Gianna Neufville and promising Jaedyn Cook, who at 6-foot-3 is the team's tallest member.
To underscore the team's youth, ninth-grader Sheffield and 10th-grader Hicks were co-captains.
Outten, who averaged 18 points, nine rebounds, five steals and two blocked shots, was named team MVP for the season. The quick-as-a blink 5-foot-10 wing was joined on the All-VCC squad by Sheffield, Lampkins and Hicks. The All-State team has yet to be announced.
The Warriors left their foes with hardly a "what if?"
RCS cruised to its first state title in school history, which dates back to the 1960s, with a 53-37 win over New Covenant School in Lynchburg in the quarterfinals; a 46-24 victory over Carlisle School in Martinsville in the semifinals; and, in the final, a 51-30 victory over Middleburg Academy of Northern Virginia.
Sheffield nailed five 3-pointers and had a team best 21 points in the final held at The Steward School in Richmond.
The program received a huge boost this year with friends telling friends that a Warriors' powerhouse was in the making.
"It wasn't me," Coach Walker said, minimizing her role in the team's dramatic upturn. "Our returning players talked it up. And their parents told other parents about us. Soon they came knocking on our door."
Little did they know then, but those knocks would turn into a state championship.