Highland Springs' Jada Walker inherits mom, dad's basketball genes
Fred Jeter | 2/22/2018, 8:40 p.m.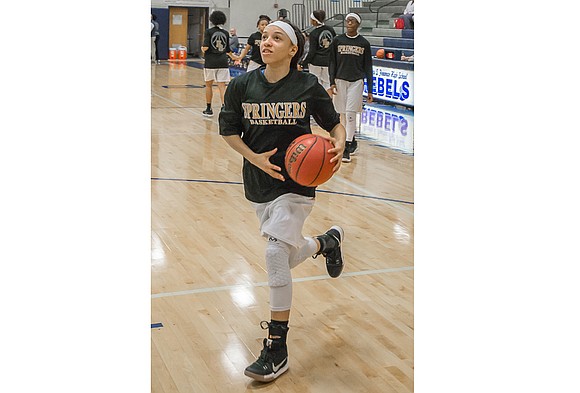 If anyone was ever born to shoot, dribble and pass a basketball, it might be Jada Walker.
Her family tree likely has hoops on each branch and perhaps a 3-point arc surrounding the trunk.
With great expectations, Jada arrived this season as a freshman guard at Highland Springs High School in Henrico County and she hasn't disappointed.
"Jada is very talented and very smart basketball-wise. She gets that from mom and dad," said Springers Coach Franklin Harris.
In spurring Highland Springs to an 18-3 regular season record, the quick-as-a-blink 5-foot-6 southpaw averaged 18.3 points, five steals, four assists and three rebounds per contest.
A perennial state title contender, the Springers commenced 5A regional play earlier this week.
Jada's rare gift of being able to dominate on the hardwood was inherited from both sides of her family.
Her father, Jonathan Walker, holds Virginia Union University's record for assists in a single season (220 in 1989) and helped the Panthers to two CIAA crowns. His No. 11 jersey was retired and is hanging in a place of honor in VUU's Barco-Stevens Hall.
Jada wears No. 11 for Highland Springs, honoring her dad.
Jonathan Walker previously served as the head men's coach at Cuyahoga Community College near Cleveland.
Jada's mother, AnnMarie Gilbert, is the ultrasuccessful women's basketball coach at VUU, with a stunning 78-10 record in three seasons. At one juncture, her husband, Jonathan Walker, served as her assistant coach.
Coach Gilbert played ball in college. She averaged 31 points during her final two seasons at Oberlin College in Ohio, leading the NCAA Division III school in scoring as a junior. Oberlin retired her No. 22 jersey.
Born in Ann Arbor, Mich., Jada says her first basketball memories are from age 4 or 5, when her mom was an assistant coach at Michigan State University.
"I remember we had a little basket in the house that I dunked on," she said with a giggle of recollection.
Nowadays, Jada does just about everything but dunk for the Springers and for her offseason travel team with the Hampton-based Boo Williams Summer League.
She's in line to become a top tier NCAA Division I prospect.
"I've already offered Jada a scholarship to Virginia Union. She hasn't accepted," Coach Gilbert said, joking.
Jada jumps in to work out with the Lady Panthers and more than holds her own, both playing the game and in racing wind sprints.
One day former Panthers men's Coach Dave Robbins wandered into the VUU gym while the Lady Panthers were practicing.
"I figured (Jada) was on our (VUU) team," Coach Robbins said. "I thought she was small, but good." At the time, Walker was in the eighth grade.
The Walker family lives in Western Henrico County. Jada has a younger brother, Jaden, a seventh-grader who plays on the Brookland Middle School basketball team.
Last year as an eighth-grader, Jada led Brookland Middle School to the Henrico County finals. In the championship game, she netted 46 points in a loss to Fairfield Middle School, the primary feeder to Highland Springs High.