First African-American player with Cincinnati Reds dies at 94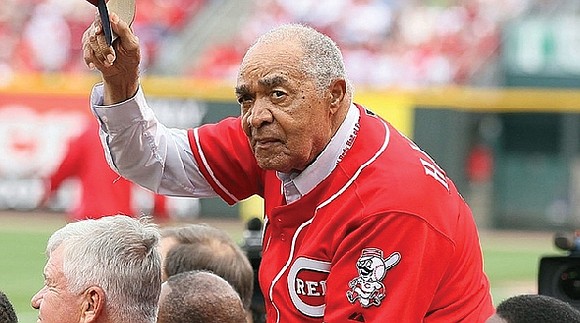 Chuck Harmon, a trailblazing African-American athlete in both baseball and basketball, died Tuesday, March 19, 2019, at age 94.
Mr. Harmon became the first African-American to play for the Cincinnati Reds baseball team in 1954, and remained a familiar figure around the Queen City of the West as a regular participant in fan and community events.
He joined the Reds on April 17, 1954, seven years after Jackie Robinson became a player for the Brooklyn Dodgers.
A third baseman and outfielder with plenty of speed, Mr. Harmon played in 289 big league games, compiling a batting average of .238, with seven homers and 59 runs batted in.
In addition to the Reds, he also played with the St. Louis Cardinals and the Philadelphia Phillies.
Mr. Harmon grew up in Washington, Ind., and helped Washington High School to the Indiana state basketball championships in 1941 and 1942. He went on to play basketball at the University of Toledo in Ohio, where he became captain of the team. He also excelled in baseball at the school.
Following a stint in the Navy, Mr. Harmon received a tryout with the NBA Boston Celtics in 1950, along with two other black players, Isaac Walthour and Chuck Cooper. Mr. Harmon was among the last to be cut. Boston broke its color line by signing Mr. Cooper.
Mr. Harmon then joined the Utica, N.Y., team in the American Basketball League as a player-coach, becoming one of the first African-Americans to coach an integrated squad in the nation.
He made the change to baseball shortly thereafter. After his Major League Baseball career ended, he played four seasons in the minors, from 1958 to 1961 in the Triple A league for five teams.
Following his playing career, Mr. Harmon served as a baseball scout for the Cleveland Indians and the Atlanta Braves, and as a basketball scout for the Indiana Pacers.
Mr. Harmon is well remembered. A bronze statue of Mr. Harmon is displayed at the entrance to Cincinnati's Great American Ball Park. A statue of Mr. Harmon also is on display at the Reds' Youth Academy.
In 1997, a street in Golf Manor, a suburb of Cincinnati, was named in his honor.