Critically acclaimed filmmaker John Singleton dies at 51
Free Press wire report | 5/3/2019, 6 a.m.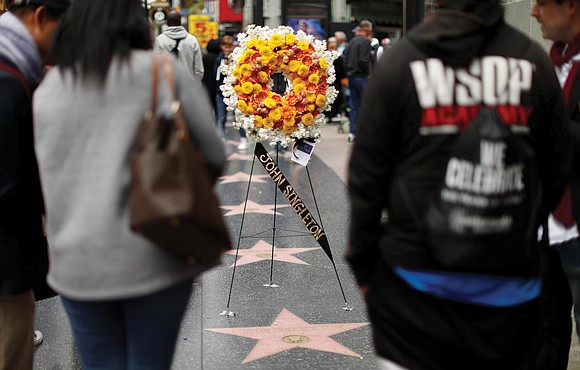 He also made the coming-of-age story "Baby Boy," a remake of the action film "Shaft" and an installment in the "Fast and Furious" franchise, "2 Fast 2 Furious." More recent projects included the FX crime drama "Snowfall," which he helped create. Starring Damson Idris, "Snowfall" returned Mr. Singleton to the Los Angeles of his youth and the destructive effects of the rise of crack cocaine.
Mr. Singleton's death Monday followed a turbulent week during which family members made opposing court filings regarding his health. Mr. Singleton had been in intensive care in a Los Angeles hospital since he had a stroke on April 17. A court filing last week by his mother, Shelia Ward, requested she be appointed his temporary conservator to make medical and financial decisions while he was incapacitated.
Ms. Ward's filing stated that Mr. Singleton was in a coma. But on April 26, Mr. Singleton's daughter, Cleopatra Singleton, 19, filed a declaration disputing that account. She maintained that her father was not in a coma and that doctors did not "have a concrete diagnosis." She opposed her grandmother becoming conservator, or guardian.
Mr. Singleton's passing prompted widespread praise for a filmmaker who, as his "Shaft" star Samuel L. Jackson said, "blazed the trail for many young filmmakers," while "always remaining true to who he was and where he came from."
Director Ava DuVernay called him "a giant among us." Spike Lee said, "We'll miss you but your films will live on." Jordan Peele, the Oscar-winning "Get Out" and "Us" filmmaker, called him "a brave artist and a true inspiration."
"Your love for the black experience was contagious and I would never be the man I am without knowing you," Ice Cube said in a statement.
"Drugs devastated a generation. It gave me something to write about, but I had to survive it first," Mr. Singleton told The Guardian in 2017. "It made me a very angry young man. I didn't understand why I was so angry, but I wasn't someone who took my anger and applied it inward. I turned it into being a storyteller. I was on a kamikaze mission to really tell stories from my perspective — an authentic black perspective."
Mr. Singleton was married twice, and had five children. Besides his career in movies, he also directed the memorable, Egyptian-themed video for Michael Jackson's "Remember the Time," which included Eddie Murphy and Magic Johnson. He cast hip-hop artists and other musicians in many of his films, including Ice Cube in "Boyz N the Hood," Janet Jackson and Tupac Shakur in "Poetic Justice" and Tyrese Gibson in "Baby Boy."
Mr. Singleton's early success didn't shield him from creative conflicts or frustration with Hollywood studios. He blamed the commercial failure of "Rosewood" on lack of support from Warner Bros. He fought with producer Scott Rudin during the making of "Shaft" and was furious when Rudin brought in author/screenwriter Richard Price to revise the script. He had planned to direct a biopic about Tupac Shakur, but quit after clashing with Morgan Creek Productions. In 2014, he chastised the industry for "refusing to let African-Americans direct black-themed films," but Mr. Singleton was pleased in recent years by the emergence of Ava DuVernay, Barry Jenkins, Jordan Peele and others.