Get out! … Jordan Peele makes history with Academy Award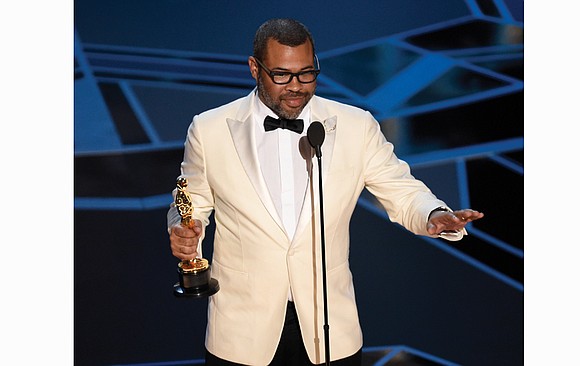 Free Press wire report
LOS ANGELES
Film writer and director Jordan Peele made history Sunday night when he took home the Academy Award for best original screenplay for his thought-provoking movie on race in America, "Get Out."
Mr. Peele, is the first African-American screenwriter to receive the original screenplay honor.
In his speech, Mr. Peele thanked the people "who raised my voice and let me make this movie."
"I stopped writing this movie about 20 times because I thought it was impossible," he said. "I thought it wasn't going to work."
The film grossed $176 million domestically.
Following the glittering awards show Sunday night, Mr. Peele posted a photo on Twitter of the gold Oscar statue next to the Emmy he won in 2012 for Outstanding Variety Sketch Series for his comedy show, "Key & Peele."
The chair in the photo's background is the one in which the film's main character, Chris, played by Daniel Kaluuya, is hypnotized by the mother of his white girlfriend.
Mr. Peele is among only four African-American screenwriters to be nominated for the award in the Oscars' 90-year history. The others were Suzanne de Passe ("Lady Sings the Blues," 1972), Spike Lee ("Do the Right Thing," 1989) and John Singleton ("Boyz n the Hood," 1991).
Heading into Sunday, "Get Out" was nominated for a total of four awards, including best picture and Mr. Kaluuya for best actor.
But the romantic fantasy, "The Shape of Water," won the best picture Oscar, and Britain's Gary Oldman won the best actor award for his portrayal of British Prime Minister Winston Churchill in the World War II drama, "Darkest Hour."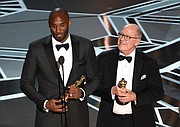 The evening was filled with remarks and acceptance speeches that included themes of female empowerment and activism.
In her acceptance speech for the best actress award, Frances McDormand, 60, who played a woman in a vengeful fury in "Three Billboards Outside Ebbing, Missouri," asked all the female nominees — across directing, cinematography, costumes and some 20 other categories — to stand up in the audience and be recognized.
"Look around ladies and gentlemen," she urged the crowd in the Dolby Theater. "Because we all have stories to tell and projects we need financed."
She finished her speech saying, "I have two words for you: inclusion rider."
An "inclusion rider" is a clause that an actor can insist be inserted in their contract that requires gender and racial diversity among cast and crew on a film.
Oscars host Jimmy Kimmel tackled Hollywood's sexual misconduct scandal with pointed jokes that became a platform for activists on issues ranging from gun violence and the Black Lives Matter movement to sexism and immigration. Activists also called for underrepresented filmmakers to seize on the momentum of the past year.
Mr. Kimmel quipped that the tall golden Oscar statue itself was "the most beloved and respected man in Hollywood."
"He keeps his hands where you can see them, he never says a rude word and most importantly he has no penis at all. He is literally a statue of limitations. That's the kind of man we need more of," he said.
Rap artist Common and singer Andra Day brought the leaders of several activist movements, including #MeToo and Black Lives Matter, on stage for a performance of their Oscar-nominated song "Stand Up for Something."
And director Ava DuVernay, Salma Hayek, Kumail Nanjiani and others spoke in a video segment about progress in smashing barriers in the industry around racism and sexism.
Kenyan-Mexican actress Lupita Nyong'o and Pakistani-American Nanjiani also spoke out on behalf of America's so-called Dreamers — hundreds of thousands of young people whose parents brought them to the United States illegally, and whose fate is now uncertain.
"Dreams are the foundation of Hollywood and dreams are the foundations of America," Ms. Nyong'o said.
Other major award winners were Mexican filmmaker Guillermo del Toro, who won best director for "The Shape of Water." Gay romance "Call Me by Your Name" won best adapted screenplay; "A Fantastic Woman," Chile's groundbreaking story about a transgender woman, won best foreign language film; and Mexican-inspired "Coco" was named best animated feature.
Sam Rockwell and Allison Janney took home their first Oscars for their supporting roles in "Three Billboards" and independent ice skating movie "I, Tonya," respectively.