Local designer ties down sneaker line
5/3/2019, 6 a.m.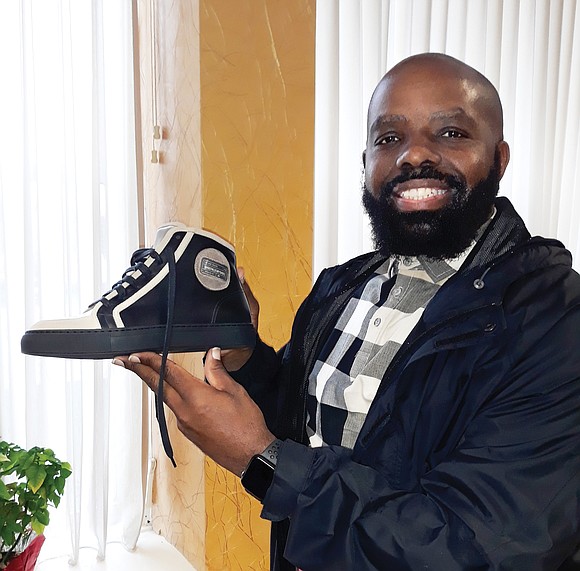 Sneakers have gone from the basketball court to the lifestyle of the rich and famous.
Forget paying $75 to $130 for a pair bearing Michael Jordan's name.
Think, instead, of shelling out $500 to $1,200 for a pair of sneakers from Chanel, Gucci, Louis Vuitton, Versace or other renowned fashion houses.
A Chesterfield County man sees such sky-high pricing as an opportunity to make his mark in the high-end market for sneakers for casual wear rather than athletic play.

Michael D. Duke, 47, ambitiously has begun his own line of high-fashion sneakers with the goal of making them more affordable — $180 a pair.
Just like the fashion big shots, he said his first shoe under his label, Smooth Luxury Shoes, is made of soft Italian leather and suede and designed for everyday and even formal use.
"They're just not the kind of shoe you play basketball in. You buy them for the look," Mr. Duke said.

For him, his new endeavor is a dream come true. Mr. Duke, who looks more like a football player than a fashionista, said he has been fascinated by the look and feel of sneakers since he was a youngster in Harlem.
"My interest developed just growing up in the neighborhood, listening to music, being hip-hop. Taking an interest in people's kicks was just part of life."
Now a full-blown sneaker aficionado or "sneaker head," Mr. Duke has long been a collector. He said he was enthralled with the pricey ones that the fashion houses began introducing as celebrities made sneakers part of their outfits. He even has some of the fashion houses' shoes.
However, he wanted to go one better by designing his own with a lower price tag.
He quickly found "there aren't a lot of companies that are making a high quality shoe" at the price he was targeting. That is until his online research turned up AliveShoes in Le Marche, Italy, located about 150 miles northeast of Rome.
According to its website, AliveShoes was created to provide professional resources to people like Mr. Duke to start a shoe line from scratch, including custom shoemaking, shipping to customers, accounting and handling returns.
Mr. Duke said he jumped at the opportunity. He submitted his design that the company approved, provided the $1,300 start-up fee, met the company's requirement for a minimum of seven orders and he was in business.
He markets online. Shoppers go through his @smoothaleno site on Instagram to order and the company sends him a percentage of the sales price.
Mr. Duke said his shoe has attracted customers from across the United States as well as London, Brazil, Austria and Argentina. "It's gratifying," he said.
He's now ready to launch his second shoe as he builds his brand, which is still a side hustle.
His full-time job is far removed from shoes and the fashion world. The married father of three children is the statewide coordinator of the Virginia Department of Corrections' gang program. He oversees four staff members, who like him, offer training on gangs to local, state and federal law enforcement personnel, hold public gang awareness seminars and work with staff at the each of the state prisons on gang identification and strategies for dealing with such groups.
A criminal justice graduate of Benedict College in South Carolina, Mr. Duke started his career as a prison guard at Greensville Correctional Center in Jarratt. He was tapped to be the gang coordinator at that prison after the DOC began its gang unit effort and later joined the gang staff at DOC's central office. He has worked in his current post since 2015.
He said DOC started the gang initiative around 2004 in a bid to reduce the potential for violence against prison guards and among the various inmate groups. DOC also sought to educate communities and authorities about gangs and their signs in a bid to reduce their spread outside prison walls.
Mr. Duke's wife, Melanie, is a drug treatment specialist at a federal prison in the Petersburg area.
He finds his sneaker hustle a way to release stress, provide a creative outlet and potentially create income to help pay for higher education for his children.
He takes inspiration from a quote that he has printed on the tongue of each shoe, "When you feel like quitting, think about why you started."