RISC receives federal grant to assist with community effort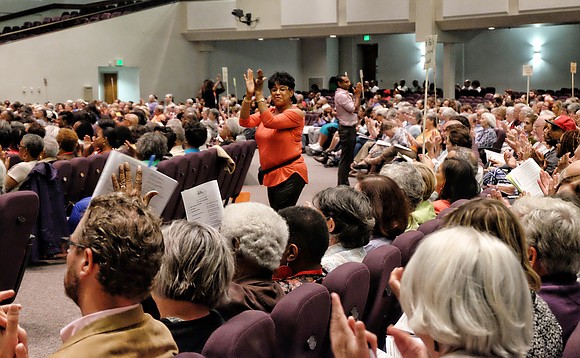 A coalition of 20 Richmond area Christian and Jewish congregations that focuses on social justice has been awarded a $144,000 federal grant ahead of its annual meeting where the faith-based coalition will press for changes in eviction policy and for proven reading and trauma response programs in schools.
Congressman A. Donald McEachin of Henrico on Tuesday announced the award from the Corporation of National and Community Service to RISC, or Richmonders Involved to Strengthen Our Community, to provide support for staff and expenses.
The award is timely. Billed as the area's largest interfaith group of its kind, RISC is hosting its 17th Annual Nehemiah Action Assembly for social justice at 7 p.m. Thursday, May 2, at Good Shepherd Baptist Church, 1127 N. 28th St. in Church Hill.
RISC expects up to 1,200 people to turn out for the public event to push for "significant, root-level changes to stop Richmond's eviction crisis" and promote ways to boost reading and provide better treatment for students who suffer from post-traumatic stress disorder due to violence in their neighborhood and/or family upheaval, according to a statement from the coalition.
The group has dealt with a wide range of issues since its founding in 2002, from improving health care services for low-income people to working with Virginia Commonwealth University to help high school seniors obtain entry-level jobs.
"RISC also has worked with Richmond Public Schools to ensure students who have been suspended multiple times receive an individual intervention rather than more suspensions," Rep. McEachin stated in the awards announcement.
He also noted that RISC advocated for the Affordable Housing Trust Fund that Richmond City Councilwoman Ellen F. Robertson spearheaded and which has helped more than 1,000 people secure lower-cost rental housing.
RISC states that it seeks to empower change by having people organize as one assembly that transcends religious, racial and socioeconomic differences to address community problems.

Participating congregations include Bon Air Presbyterian Church, Bonay Kodesh, Congregation Or Ami, the East End Fellowship, Ebenezer Baptist Church, First Congregational Christian United Church of Christ and First Presbyterian Church.
Also, First Unitarian Universalist Church, Ginter Park Presbyterian Church, Grace Covenant Presbyterian Church, New Light Baptist Church, Richmond Mennonite Fellowship, Riverview Baptist Church and Second Baptist Church-Southside.
Also, Seventh Street Memorial Baptist Church, Southminster Presbyterian Church, St. Elizabeth Catholic Church, St. John's United Church of Christ, St. Paul's Episcopal Church and The Light Community Church. Union Presbyterian Seminary also is a member.