New housing honcho
RRHA's leader Damon Duncan outlines priorities that will impact city's 10,000 public housing residents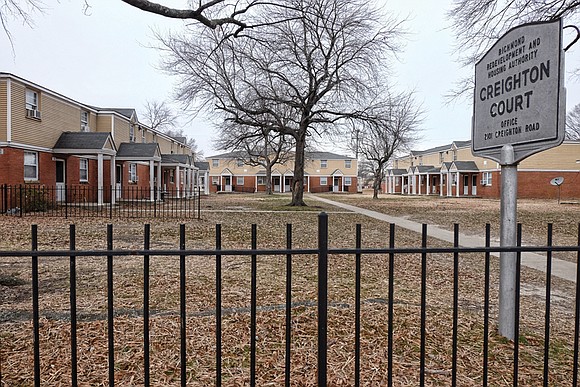 The new chief executive officer of the Richmond Redevelopment and Housing Authority is vowing that the agency will move "expeditiously" to redevelop the city's decaying public housing.

Damon E. Duncan put that at the top of the list of priorities he outlined in his first public comments Monday.
He said he wants to move quickly to carry out RRHA's long-standing goal of overhauling, replacing and modernizing the city's nearly 4,000 deteriorating public housing units, the largest and most essential inventory of affordable housing for the city's lowest income residents, seniors and disabled people.
At his first news conference since taking the helm March 25, Mr. Duncan also promised to communicate honestly with residents about coming changes, to step up preventive maintenance to ensure residents do not again lose heat in the winter and to work closely with police on a strategy to continue the downturn in crime in the city's public housing communities.
The 51-year-old housing veteran emphasized the need to push the plan for revamping public housing that his predecessors set in motion.

"We have some aggressive plans underway, and as I've been telling the board and some of the residents, it is not going to be pretty, it's not going to be sexy, it's not going to be glamorous," said Mr. Duncan.

But he called the coming changes critical to address the decline in the majority of housing units that date back 40 years or more and that "have outlived their useful life by 10 to 15 years."
He told reporters, several RRHA board members and staff and City Council President Cynthia I. Newbille, who came to welcome him, that he has visited all of the properties that RRHA operates, including the Big 6 public housing communities — Creighton, Gilpin, Fairfield, Hillside, Mosby and Whitcomb courts.
"I wanted to see the properties in their normal state, to see how the properties operate and to take in all we have to work with," said Mr. Duncan, who led the housing authority in Elgin, Ill., for seven years before joining RRHA. During his career, he also has worked for public housing agencies in Detroit and Pontiac, Mich., and ran his own housing consulting firm for five years.
He said what he found in Richmond were problems endemic to public housing across the country as he took an inventory of both the physical housing stock and the staff he will be working with.
"The housing stock has been deteriorating for some time," said Mr. Duncan, who began his career in affordable housing in 1991 after graduating from Eastern Michigan University. He also has master's degrees from Central Michigan University and Auburn University.
"There are only two reasons that the properties would get to this state — either by commission or omission," he continued. But whatever the reason, he said he has already told city leaders that change must come.
Mr. Duncan announced that he has brought on Terese Walton, his former boss when he worked in Detroit more than 20 years ago and an associate in the years since on a variety of public and affordable housing projects. At RRHA, she will serve in the No. 2 position as executive vice president.