VSU grads receive uplifting messages at 2 commencement ceremonies
U.S. Rep. Lucy McBath 'We must take seriously our responsibility to build a better world'
Nia Tariq | 5/24/2019, 6 a.m.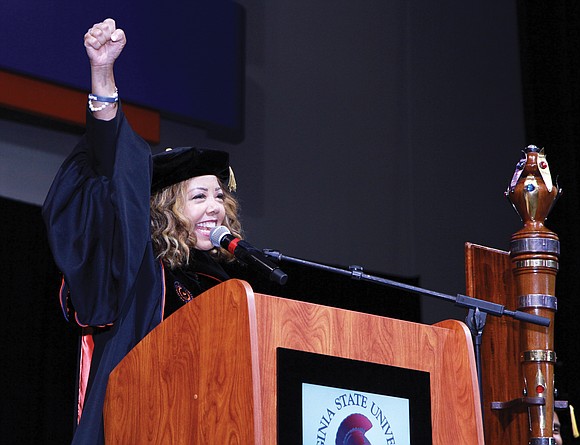 "Everything that has happened in my life — everything that I have survived and everything that I have accomplished — prepared me for what I am doing now," Congresswoman Lucy McBath of Georgia told an arena full of graduates, family members and friends at Sunday afternoon's commencement ceremony at Virginia State University.
Congresswoman McBath, who is a 1982 political science graduate of VSU, was a flight attendant for Delta Air Lines for 30 years and became a national advocate for gun control following the November 2012 shooting death of her 17-year-old son, Jordan Davis at a gas station in Jacksonville, Fla., by a man who said the young man and his friends were playing their car music too loud.
The 45-year-old white man sought to use Florida's "stand your ground law" as a defense, but was convicted of killing her son in 2014. He is serving a life sentence.
After the mass shooting at Marjory Stoneman Douglas High School in Parkland, Fla., in February 2018, Congresswoman McBath decided to challenge Republican Congresswoman Karen Handel in Georgia's 6th Congressional District that includes many of Atlanta's affluent northern suburbs. She won by less than 3,000 votes.
"I was always involved in politics, but I didn't want a career in it," the Democratic congresswoman told the graduates. "But seven years ago, I found myself on a path that I did not choose, fighting a battle that I did not start, advocating to change dangerous gun laws that I never even knew existed.
"People ask me how have I been able to press on after such a tragic thing in my life? How have I become a gun safety advocate? How did I learn to navigate my way to Washington? The answer is I'm still learning, and you must also continue to strive and learn."
She charged the VSU graduates to utilize the talents and skills they honed in school to make a positive difference for others.
"The world is waiting for your talent. The world is waiting for your energy. The world is waiting for you," Congresswoman McBath said. "As Trojans, we are bound together by a common cause. And we must take seriously our responsibility to build a better world with the knowledge, the wisdom and the tools that you've been given here at Virginia State University."
She lauded her former VSU professors and the current faculty for understanding the gravity of their status at a historically black college because they provide youths the opportunity to learn from people who look like them. She urged the audience to "live a life which requires you to act upon your core values and your morals."
Congresswoman McBath was awarded an honorary degree during the ceremony.
Graduate Joseph Marcus McKay of New York, who earned a bachelor's in accounting, was honored with the $1,000 Reginald F. Lewis Prize for being the most-improved student in the Reginald F. Lewis College of Business between his sophomore and senior years.
VSU President Makola M. Abdullah employed pop culture references regarding the late rapper Nipsey Hussle and reminded the newest group of VSU alumni to make sure they are "grindin' all (their) life."
"The journey or the race that you've been on for the past four or five years is now over," Dr. Abdullah said. "It ends, if you will, a series of races that have all been timed … and it begins a different version of your journey — one that is much more open-ended.
"And that open-ended journey is defined mostly by a single thing … Your success in your future journey after college will be your ability to work hard."