Lt. Gov. Justin E. Fairfax and U.S. Sen. Mark R. Warner encourage VSU graduates at dual commencement ceremonies
5/19/2018, 3:23 p.m.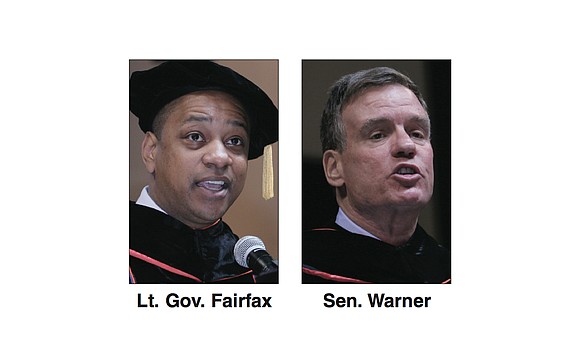 By Thomas Kidd and Leah Hobbs
Lt. Gov. Justin E. Fairfax urged Virginia State University graduates to use the strengths of the past to build a brighter future.
"Simply wishing you congratulations is not enough. I want to call your attention to a greater spirit at work today. You are not merely the sum total of your accomplishments. But, rather, you are — we all are — our ancestors' wildest dreams," the 39-year-old former federal prosecutor told the Class of 2018.
Lt. Gov. Fairfax, who was sworn into office in January, is the second African-American to win statewide elective office in Virginia.
With 670 degrees to confer on Mother's Day, VSU officials held a morning and an afternoon ceremony to accommodate the large numbers of graduates, their families and friends at the VSU Multi-Purpose Center. Lt. Gov. Fairfax spoke at the morning exercise and U.S. Sen. Mark R. Warner gave the afternoon address.
Lt. Gov. Fairfax talked about VSU's history dating to 1882 as Virginia Normal and Collegiate Institute. He told the audience that VSU's first president, John Mercer Langston, was the great uncle of poet and writer Langston Hughes and also the first African-American to be elected to the U.S. House of Representatives from Virginia. He shared how President Langston was tireless in his efforts, fought against seemingly insurmountable odds and established what is being realized today in by the Class of 2018.
"This is further evidence that you walk in the footsteps of giants," he said.
The lieutenant governor then shared a more personal story about Simon, a Virginia slave, who on June 5, 1798, was handed a manumission document — a formal act freeing him from slavery.
"This document freed Simon and naturally changed the entire trajectory of his life," Lt. Gov. Fairfax said before revealing that Simon was, in fact, Simon Fairfax, his great-great-great-grandfather.

Even more poignant was that moment before his swearing in as Virginia's 41st lieutenant governor — and only the second African-American to be elected to the position since former Gov. L. Douglas Wilder's tenure in the No. 2 position more than 30 years earlier — Mr. Fairfax's father handed him a copy of Simon's manumission paper. The 220-year-old document had been found in the Fairfax County Courthouse a week prior to the inauguration.
"I had lived my whole life not knowing about him," Lt. Gov. Fairfax told the audience. "But in that moment, I felt the awesome weight of history and the power that love, hope and opportunity can give."
He challenged graduates to follow in the footsteps of their ancestors — to have the determination, grit and courage to face and overcome obstacles and let their accomplishments mark a path toward greater successes for generations to follow.

"It's not enough to succeed on your own. You have to lift other people as you climb," he said. "I know how important this philosophy is because I, like you, have been so blessed to benefit from it."
During his afternoon address, Sen. Warner talked about his experience as the first in his family to graduate from college. He said he knew that his education would take him places where he would be able to do things and go places that his parents could only dream of.