Personality: Diana H. Garland
Spotlight on Richmond ambassador for USA Pickleball Assoc.
5/31/2019, 6 a.m.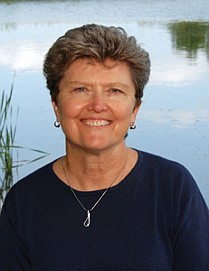 One of the fastest growing sports involving a court and a net is not tennis or badminton. It's pickleball!
And Diana H. Garland is leading the charge locally as the USA Pickleball Association's Richmond ambassador.
The 69-year-old retiree is getting people of all ages hooked on the game that has been described as a mix of tennis, racquetball and ping pong. It is played on a smaller, badminton-sized court, with players using special paddles — smaller than a tennis racket — to hit a hard plastic wiffle ball — just under the size of a softball — over a net.
Two or four players can play, with a point scored when the opposing player or doubles team fails to return the ball into the serving team's court.
It takes 11 points to win, with the winner required to be up by two points.
"At first, I thought the game was a joke because the game has this stupid name," Ms. Garland says, recalling how a friend began talking about pickleball four or five years ago.
Pickleball, she recounts, was started more than 50 years ago in Washington state. "It came to Chesterfield County more than 12 years ago, thanks to the efforts of Linda and David Scott. It has spread to the city and surrounding counties since then," Ms. Garland says.
"Two years ago, I borrowed a racket, stepped on the court, took a lesson and have been hooked ever since," she says.
Mrs. Scott, the USA Pickleball Association's district ambassador for Central Virginia, asked Ms. Garland in August 2018 to consider being an ambassador for the city and give Richmond the attention it needed to get pickleball going.
She accepted and will serve as an ambassador until she decides to step down.
In concordance with an ambassador's mission, Ms. Garland tries to grow the sport by finding people to play, places for them to play and encouragement to sharpen their skills.
"We want to bring as many people as possible into the sport and teach them the skills to be the best players they can be in as many venues as possible in the Richmond region," Ms. Garland says.
Last summer, she volunteered to help Wyatt Kingston of the Richmond Department of Parks, Recreation and Community Facilities to teach youngsters to play pickleball.
"Now we have had more than 400 people play in the city rec centers," Ms. Garland says. "We've had the first indoor women's league in the area. We've hosted a clinic by a national pickleball coach. And we're getting ready to take our programs outside for the summer.
"We'll also teach more kids this summer and end the season with a tournament," she says. "The kids love it because it is easier than playing tennis."
Older people also enjoy the game, Ms. Garland says.
"For longtime tennis players, former athletes or people wanting to have some fun, the smaller court takes stress off of knees and joints."
Currently, pickleball is played indoors at Humphrey Calder, South Side, Powhatan Hill and Hotchkiss community centers, Ms. Garland says. Days and times vary depending on the center, she notes, but at least one center hosts pickleball each weekday.