Armstrong tennis team ramps up for winning season
Fred Jeter | 5/8/2015, 8:52 a.m. | Updated on 5/8/2015, 9:47 a.m.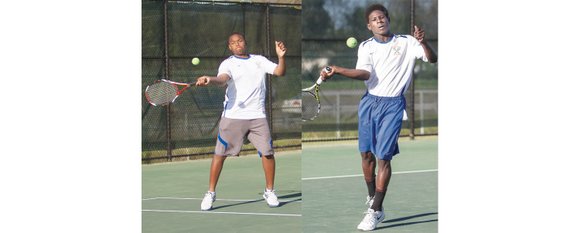 George Banks has a powerful hunch there is a potential tennis phenom somewhere within Richmond's city limits.
And if his instincts are correct, Banks is determined to discover him or her, outfit the prospect with a racquet and sneakers and swing open the door of opportunity.
"Will Richmond ever have another Arthur Ashe? I say, 'Yes,' " Banks told the Richmond Free Press.
Brimming with optimism and energy, Banks wears at least three hats around town.
He's a Richmond police officer, president and founding father of Metro Richmond Tennis Club, and the volunteer tennis coach at local powerhouse Armstrong High School under on-campus head coach Gary King.
Nothing causes the dimples to pop out on Banks' face more than a discussion about Richmond tennis past, present and future.
Let's start with four people in "the present."
George Banks: A former tennis and football athlete at Benedictine High School, he played four years of tennis under the tutelage of the legendary Dr. John Watson (more on him later) at Virginia Union University.
As an adult, Banks has concentrated on fighting crime and, as a mentor, introducing tennis to hundreds of youngsters.
"We need to show the kids there is more to sports than basketball and football," he said.
Banks presides over Metro Richmond Tennis Club, which is based at Battery Park and Westover Hills and on Sundays indoors at the Westwood Club. Currently, 105 children are enrolled.
Gary King: A former football All-State pick at Nottoway High School and scholarship lineman at The College of William & Mary, he is a huge man with a soft heart.
King's Armstrong Wildcats feature the top talent in Conference 26, but also some other teenagers with various challenges who never may have gripped a racquet if not for King and Banks.
For those not yet ready for primetime play, Armstrong High School has the "sponge ball" mini-net, on sloping grass, for beginners.
And then there are Yusufu Ibrahim and Lamar Richardson, the so-called "whiz kids," shining examples of the Metro Richmond Tennis Club.
Yusufu Ibrahim: Born in The Bronx to parents who immigrated from Nigeria, he won Conference 26 as a sophomore and plays No. 1 singles and doubles this spring.
The 140-pounder attends Richmond Community High School and commutes to Armstrong after school. Often, the ride is provided by Banks — in police uniform and in patrol car.
Quick and savvy, Ibrahim has tremendous court coverage and puts serious spin on about every shot.
Lamar Richardson: A burly 205-pound senior at Richmond's Open High School, he was all about football until discovering tennis through the Metro Richmond Tennis Club.
"And he never looked back," said King.
Richardson fell to Ibrahim in last year's Conference 26 final and figures to meet his teammate again his year.
Together, they form a dominant doubles tandem that could go far in State 3A competition.
Richardson, son of former John Marshall High School basketball star Steve Richardson, has committed to play college tennis at North Carolina A&T State University.
Richmond's tennis "past" is closely tied to its "present."