Missing house key unlocks tennis career for Franklin Military Academy student
6/2/2017, 11:23 p.m.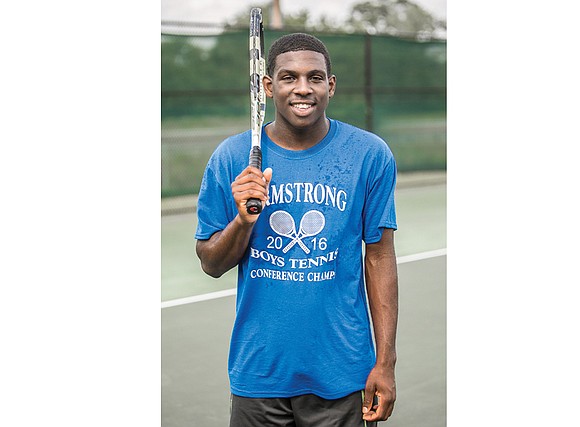 Charlesten Freeman's tennis success story started with a missing house key. Little could anyone suspect then the potential that awkward situation would unlock.
Today, the 16-year-old East End resident is the Conference 26 singles champion and aspiring for even loftier goals.      
"I'm definitely thinking Division I (college) — even pro. But I have to keep working hard," he told The Free Press.
Freeman is a sophomore at Richmond's Franklin Military Academy but plays with speed and a crisp forehand for his comprehensive neighborhood school, Armstrong High School.
The son of Cecilia Freeman and Carl Collins, he commutes with his Babolat 100 Strike racket in tow from Franklin to Armstrong each afternoon via the school activities bus.
In his second varsity Wildcats' season under veteran tennis Coach George Banks, Freeman won the conference title with a straight sets victory over Spotsylvania's Cody Abelende on May 16 at Spotsylvania.
That same day, he combined forces with Solomon Harris to upend Abelende and Tucker Sorrell in straight sets for the doubles crown.
The victories qualify Freeman — in singles and doubles competition — and Harris in doubles competition for next week's Region 3A East action in Fredericksburg.
So what about that missing key?
One spring day during his seventh grade year at Martin Luther King Jr. Middle School, Freeman went home after school only to discover his key was missing.
"We didn't live far from Armstrong at the time, so I walked over to get a key from my brother," Cameron Creech, he recalled.
Somehow, that led to Armstrong Activities Director Ksaan Brown and Coach Virgil Hockaday talking to Freeman and suggesting he try his hand at tennis.
"I remember it," said Brown. "That's not unusual here with our small enrollment. We're always looking for athletes, and we knew Charlesten's brother already was playing football, wrestling and tennis here."
Freeman, who was all about football at the time, was introduced to the energetic Coach Banks and the tennis wheels began spinning. The seventh-grader began practicing with the Wildcats' varsity — starting off with an under sized wooden paddle. He also joined the Metro Richmond Tennis Club, of which Coach Banks is president.
A quick learner, Freeman played No. 2 singles as a freshman behind Yusuf Ibrahim, who is now on academic scholarship at Virginia Commonwealth University.
This season, the 5-foot-9, 150-pound right-hander moved to the No. 1 position. Also playing for the Wildcats are No. 2 William Wilkins, No. 3 Harris, No. 4 Ja'Kinah Oliver and No. 5 Justin Gayton.
With just five players on the Armstrong team, the Wildcats forfeit the No. 6 singles game each match. Despite that, Armstrong won the conference team title.
Freeman has played a few private tournaments, but most of his competition has been wearing the Armstrong High School orange and blue.
"I want to be ready when I get into the bigger tournaments," he said. "I know the competition will be tougher and I don't want to spend $70 or $100 to enter and get eliminated in the first round."
He has worked part time at Firehouse Subs to help with expenses.
In Harris, Freeman has a solid doubles partner.
On the 3A prep level, the tandem of Freeman and Harris figures to be dominant the next two seasons.
A 6-foot-2 Richmond Community High School sophomore, Harris was introduced to tennis by an uncle, Paul Manning, who was involved with the formation of U-Turn Sports Performance Academy.
While Freeman gave up football — he was the junior varsity quarterback in ninth grade — for tennis, Harris passed on basketball to polish his tennis serve and volley.
Harris' mother, Paula Harris, is a former basketball coach and his father, 6-foot-6 Tim Harris, played basketball at Catawba College in North Carolina.
At inner-city schools, coaches sometimes don't know where their tennis players may come from. But at Armstrong High's courts, one thing is for sure — Freeman holds the key.