Company believes it can attract more than 600,000 patrons to new Coliseum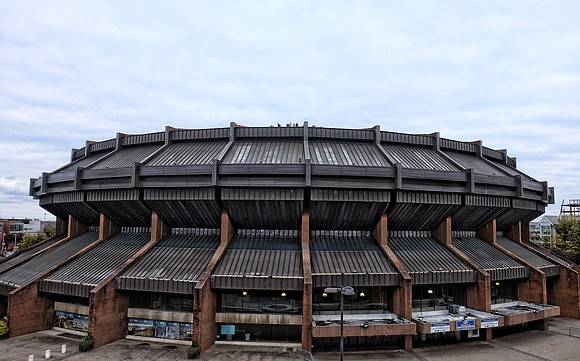 John Page's company, Spectra, is betting its management can turn Richmond's proposed 17,500-seat Coliseum into one of the busiest and most successful entertainment centers in the world, if Richmond City Council approves allocating more than $300 million in taxpayer dollars over 30 years to build it.
Mr. Page, who is president of the venue management, entertainment, food services and hospitality company, has backed up that bet by inking a deal that would put Spectra on the hook for making money from a new Coliseum and generating attendance of more than 600,000 people a year to events.
The deal would put the company, and not the city, on the hook to cover any deficits, Mr. Page said. He also noted the company has agreed to put up $8 million for seats, concession equipment and other furnishings.
Spectra made the deal with Navy Hill District Corp., which has proposed replacing the Richmond Coliseum and handling its operational and maintenance costs.
It's a big bet for Spectra. As Mr. Page noted, Spectra must figure out how to do well, even though the first dollars of income, including those earned from naming rights and corporate sponsorships, would go to repay the debt incurred by construction.
Before it closed in January, the Richmond Coliseum, then run by SMG, a top competitor of Spectra and the initial pick to run the new Coliseum, ranked among the top 200 arenas in the world based on ticket sales for concerts and other touring events.
In 2018, Richmond was listed at No. 131, with 130,651 in paid attendance, according to Pollstar, which collects and tracks such data. In 2017, Richmond was listed at 147, with 94,463 in paid attendance.
Mr. Page said he expects Spectra to do better attracting people from across the Richmond region to purchase tickets, buy concessions and purchase souvenirs.
He said Spectra, which promotes some shows and also has booking power in operating 57 other arenas, expects to offer at least 20 concerts a year in Richmond that would attract attendance of 15,000 or more people, creating a base of at least 300,000 in paid attendance.
In addition, he said Spectra expects to book 10 to 30 traveling shows a year, such as Disney on Ice, WWE wrestling, rodeos and boxing, that each attract 5,000 or more people. That, he said, could boost paid attendance to more than 400,000 a year, which would place Richmond among the top 50 venues.
That doesn't count attractions that Pollstar does not track, but which would boost attendance. Mr. Page said a new Coliseum has the possibility of attracting a minor league hockey team or a G-League pro basketball team that might attract 3,000 or more people per game.
Bookings for religious programs, graduations and similar events would bring in rental income, he said. If everything works, Mr. Page expects 180 days with activities.
The Richmond Coliseum often reported 130 activities and 700,000 people using the arena for a variety of events, some of which Pollstar does not track.
In response to a query from City Council's Navy Hill Development Advisory Commission, which is reviewing the project, Navy Hill District Corp. reported that the new arena could attract 683,000 a year, but projected only five nights of near sellouts.
Pierce Homer, chairman of the advisory commission, noted that the Navy Hill response suggested Richmond might need a less expensive and smaller arena of 8,500 to 10,000 seats.
He noted that Navy Hill projected most events would attract 8,500 or fewer people.
"Do we need to build so large a space if it will only need the capacity a few nights a year?" he asked, posing that question to the commission at its meting last Saturday.