Frank Lloyd Wright synagogue continues 60 years later as work of art
Adelle M. Banks/Religion News Service | 10/4/2019, 6 a.m.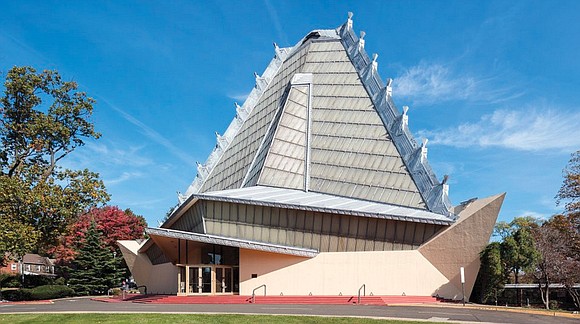 ELKINS PARK, Pa. Sixty years ago, just before the Jewish High Holy Days, members of a Conservative synagogue processed into their new sanctuary, marking a new era in their congregational life and in modern religious architecture.
The only synagogue designed by Frank Lloyd Wright, Beth Sholom Synagogue still stands six decades later in this suburb north of Philadelphia as both a house of prayer and an unusual, functioning piece of art.
Recalling in its design the place where Scriptures say the Ten Commandments were given to Moses, Beth Sholom is lesser known than the Guggenheim Museum in New York, Fallingwater or Mr. Wright's other landmark creations. It nevertheless attracts those who are aware of its connections to the famous architect.
Mr. Wright himself saw it in cosmic terms.
"The design for Beth Sholom has taken the supreme moment of Jewish history and experience," Mr. Wright said at the time, "the revelation of God to Israel through Moses on Mount Sinai, and translated that moment with all its significance into a design of beauty and reverence.
"In a word, the building is Mount Sinai, where Israel first encountered God."
The synagogue's exotic geometric shape, which appears atop a rise and around a bend as drivers approach it along Old York Road, was suggested by Beth Shalom's then-Rabbi Mortimer J. Cohen as "a dream and hope in my heart" to Mr. Wright in a 1953 letter. Mr. Wright responded to Rabbi Cohen, whose letter included a rough sketch of his idea, beginning a close bond the two men developed, mostly through correspondence.
"They had a very long, sustained dialogue about this building over a six-year period," said Joseph M. Siry, author of the 2011 book "Beth Sholom Synagogue: Frank Lloyd Wright and Modern Religious Architecture."
Mr. Wright would eventually grant Rabbi Cohen the title of co-designer. The architect, a Unitarian whose uncle was an organizer of the 1893 Parliament of the World's Religions, also referred to the rabbi and himself as "congenial workers in the vineyard of the Lord."
Dr. Siry said Rabbi Cohen, in turn, said: "I found in Mr. Wright a genuinely spiritual person who responded in his unique way to the great teachings of my religion."
The building was dedicated, and the rabbi's dreams were realized, just months after Mr. Wright's death, on Sept. 20, 1959.
Rabbi Cohen showed in his original sketch that he did not want a traditional longitudinal design. Rather, he desired a space, Dr. Siry said, with "a much more collective, in-the- round feeling."
That idea continued in the slant of the floor.
"It slopes down toward the front but it also slopes in toward the center," said Dr. Siry, an art history professor at Wesleyan University in Connecticut.
For his part, "Wright wanted to create the kind of building in which people, on entering it, will feel as if they were resting in the hands of God," theAmerican Institute of Architects notes in its online description.
Dr. Siry said the building, with its 108-foot-tall sanctuary, achieves the "mountain of light" Mr. Wright was hoping for with the synagogue's tetrahedron design.