$15M repaving effort underway in city
Cityscape: Slices of life and scenes in Richmond
The promised extra money is starting to flow into repaving streets across the city.
From the Worthington Farms community in South Side to the Fulton neighborhood in the East End, the roar of trucks and other heavy equipment is resounding as crews tackle the bumpy, cracked and worn-out asphalt and replace it with smooth surfaces.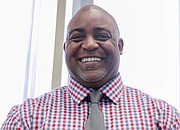 Bobby Vincent, director of the city Department of Public Works, said $10.7 million is scheduled to be spent by mid-December on street improvements in various neighborhoods as well as in Downtown.
Much of the work is scheduled to take place this month north and south of the James River, according to a post Oct. 3 on the DPW website.
Mr. Vincent said DPW plans to spend another $4.3 million during the spring to complete the $15 million approved for the current 2019-20 budget year. That includes $1 million to resurface a portion of Chippenham Parkway.
Meanwhile, DPW is preparing to invest $1.2 million in sidewalk improvements in Carytown, Church Hill, The Fan, Shockoe Slip and other neighborhoods beginning this month.
Compared with past years, this is a big increase in spending on infrastructure. Mayor Levar M. Stoney proposed the increase, which was approved by City Council in the city's current capital budget.
DPW was on track to receive only $1.5 million for street repaving and only $500,000 for sidewalk replacement during the current budget year before the mayor and the council collaborated on the significant increase.
But the $16.2 million to be spent represents just a down payment on the work that needs to be done. Mr. Vincent gets plenty of complaints about street conditions and drivers dodging potholes and can only hope that this year's funding level will be maintained.
During budget deliberations, he presented City Council members with information on the condition of the roadways in their districts. Overall, he said, 65 percent of Richmond's nearly 2,500 lane miles of public streets are in poor condition, and that rating will not change on many streets even after this money is spent.
As a result of the new funding, he expects to repave 250 to 300 lane miles of city streets before the budget year ends on June 30, 2020. That's more than double the typical year when DPW can only resurface 80 to 100 lane miles. A lane mile is one mile of each lane on a street.
It is unclear whether such spending levels will continue. The five-year capital budget City Council approved provides an average of $5 million a year over the next four years for street paving.
Mr. Vincent estimates that the city needs to spend at least $110 million to improve its streets, and that's basically the cost of resurfacing. According to a city auditor report, the city likely would need to spend $200 million to $300 million to rebuild and resurface worn-out streets for which spending has never matched the maintenance need.
In Mr. Vincent's view, the city should put at least $20 million a year into redoing its streets, but needs a minimum yearly repaving budget of $15 million to provide new surfaces for every lane mile over the next six to eight years and then to be able to start over as the surfaces begin to wear out. Resurfacing lasts only five to 10 years, Mr. Vincent said.
It's not cheap. Pulling up asphalt, restoring it with oil and relaying it costs about $15,000 per city block, Mr. Vincent estimated, while it costs about $25,000 per block to mill or grind up one to two inches of a street's top surface and relay new asphalt.
"My goal is to have 80 percent of city streets in good condition or better," Mr. Vincent said.