Democratic Delegate Dawn Adams faces GOP's Garrison Coward in 68th District House race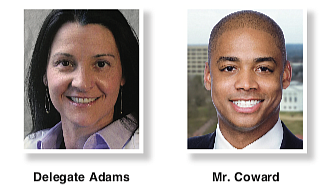 Democratic Delegate Dawn Adams is running for re-election to keep her seat in the 68th House District, where she is facing a challenge by Republican Garrison Coward.
Delegate Adams, a nurse practitioner with more than 30 years of experience in the health care field, won the seat two years ago in an upset of Republican Manoli Loupassi.
Mr. Coward, former political director and deputy director of minority engagement for the Republican Party of Virginia, is chief operating officer of BizCents, a local data analytics firm.
The district includes parts of Richmond and Henrico and Chesterfield counties.
Both candidates view health care, education and the environment as priority issues facing Virginia.
Ms. Adams believes all three are basic necessities for a productive member of society.
"Good health and education within a clean and safe environment are the building blocks society most wants to live in and a smart investment. This must be done through budget and policy," she said.
With the General Assembly providing funding for a 5 percent raise for teachers' salaries and incentives for state universities not to raise tuition, "we should continue to invest in making a quality education accessible to all Virginians so that we can keep producing the 'best and brightest' and also attract teachers and all types of workers to move to Virginia," she said.
She also backs gun safety legislation to help curb gun violence.
Mr. Coward said if he is elected, he will work to ensure Virginia's teachers are paid competitive wages, programs are created for students to explore career fields as early as middle school and career and technical education is strengthened.
Protecting the business climate in the state and the district is key to future economic growth and prosperity, both candidates said.
Delegate Adams, who has built relationships on both sides of the aisle, said, "Harnessing and increasing growth begins with investing in a world-class education. This is what will continue to bring business, families and individuals to Virginia. And this is what will give our children a shot at prosperity, whether they grow up in the urban crescent or a rural community."
Mr. Coward believes supporting the state's "right-to-work laws are extremely critical to minority- and women-owned businesses in our Commonwealth."
He said, if elected, he would introduce and support legislation with policies friendly to businesses that would encourage companies to relocate and bring high-paying jobs to the area.
"I am not afraid to bring people together, regardless of their politics, to solve tough problems," he said.