NFL Hall of Famer Willie Brown dies at 78
Fred Jeter | 10/31/2019, 6 p.m.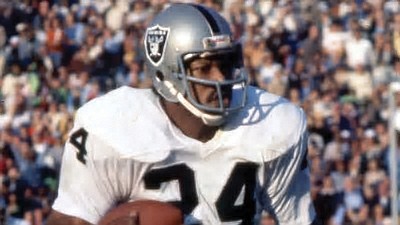 Willie Brown, a headline performer for two of professional football's iconic dynasties, died Tuesday, Oct. 22, 2019, at age 78 in Tracy, Calif.
The brilliant defensive cornerback was a main cog in the Oakland Raiders' long-standing AFL and NFL success in the 1960s and 1970s.
And before that, he was a marquee performer for HBCU powerhouse Grambling State University in Louisiana under Coach Eddie Robinson.
Mr. Brown was inducted into the NFL Hall of Fame in 1984, his first year of eligibility. He was a native of Yazoo City, Miss., where he graduated from segregated N.D. Taylor High School.
Though undrafted coming out of Grambling, he finished his NFL career with 54 interceptions and was considered a master of the bump-and-run coverage. He returned his interceptions for a total of 472 yards.
In 1964, he picked off four passes in a single game against the New York Jets.
He was named to four NFL Pro Bowls and, before that, to five AFL All-Star teams, prior to the AFL-NFL merger.
He served as defensive captain 10 of his 12 seasons with the Raiders.
Mr. Brown played during a golden era of football at Grambling. He is one of four former Tigers to play under Coach Raobinson to make the NFL Hall of Fame during the same general timeframe. Others were defensive linemen Buck Buchanan and Willie Davis and receiver Charlie Joiner.
Mr. Brown is perhaps best remembered for his Super Bowl interception and return against the Minnesota Vikings in January 1977.
After picking off a pass from Vikings quarterback Fran Tarkenton, Mr. Brown raced 75-yards for a decisive touchdown in the Raiders' 32-14 victory.
While Mr. Brown was with Oakland, the Raiders won six NFL West titles in seven years.
He also was part of two Raiders' Super Bowl titles as an assistant coach. He later was head coach in 1991 at California State University Long Beach and at Jordan High School in Los Angeles in 1994.
Mr. Brown was selected to the AFL All-Time Team and as one of the "NFL's 100 Greatest Players" by Sporting News.