Former NFL player Roosevelt 'Rosey' Taylor dies at 82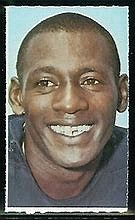 Roosevelt "Rosey" Taylor, who played on championship teams in college and with the NFL, died Friday, May 29, 2020. Mr. Taylor was 82.
The New Orleans native was a star defensive back at Grambling State University in Louisiana before going on to a 12-year career in the NFL, mostly with the Chicago Bears.
At Grambling, Mr. Taylor helped Coach Eddie Robinson to his first SWAC title in 1960. Other members of that championship squad included Willie Brown and Buck Buchanan, now members of the NFL Hall of Fame, and Ernie Ladd, an NFL All-Pro pick.
Mr. Taylor helped the Bears to the 1963 NFL title with a victory over the New York Giants at Chicago's Wrigley Field. That same season, Mr. Taylor led the NFL with nine interceptions and was named the All-Pro first team.
He made 23 of his career 32 interceptions with the Bears, three of which he returned for touchdowns.
Mr. Taylor played with the Bears from 1961 to 1969, the San Francisco 49ers from 1969 to 1971 and the Washington NFL team in 1972.
The 1972 Washington team reached the Super Bowl under Coach George Allen. In Chicago, Mr. Allen was Mr. Taylor's defensive coordinator.
Mr. Taylor's son, Brian Taylor, starred at Oregon State University and played in the NFL from 1989 to 1992 with the Chicago Bears and the Buffalo Bills.