Flying Squirrels get ready for the season with virtual tours despite coronavirus
4/2/2020, 6 p.m.
The Diamond will be eerily quiet this early spring.
Get used to the sounds of silence. That means no crack of the bat, pop of the mitt, roar of the crowd or voices of vendors peddling their wares. And no thrilling fireworks shows on Saturday nights.
The Richmond Flying Squirrels, like all pro baseball teams, are cooling the heels of their cleats because of the coronavirus pandemic.
Even the most wishful thinkers aren't predicting the Eastern League season will commence prior to June. The July 13-15 All-Star break might be a more realistic target date.
Still, there's much to discuss involving the Flying Squirrels, the San Francisco Giants' AA affiliate housed at 3001 N. Arthur Ashe Blvd.
Keepin' busy: With schools closed, the Flying Squirrels are offering an online "digital field trip" for youngsters K-5. This includes a variety of fun games and exercises for the team's youngest fans. Go to richmondflyingsquirrels.com and click on "Education Day."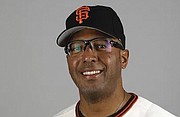 Familiar face: José Alguacil is returning for his second go-round as the Squirrels' manager. The native Venezuelan managed the team to a 72-68 record in 2015.
Alguacil succeeds Willie Harris, the franchise's first African-American manager, who directed the team to a 62-76 mark in 2018 and 59-84 a year ago.
Packing 'em in: Despite finishing last in the EL Western Division in 2019, the Squirrels were first in attendance, averaging 6,255 customers for the 64 dates. This is the result of an endless parade of promotions and a family-friendly atmosphere at The Diamond.
Star watch: Alguacil's likely centerfielder will be 20- year-old Heliot Ramos. A native of Puerto Rico, the 6-foot, 188-pound Ramos was the Giants' first round draft choice in 2017 and the 17th pick overall.
Ramos' brother, Hector, is all-time goals scorer on the Puerto Rican national soccer team.
Last year's centerfielder for the Flying Squirrels was another Puerto Rican, Johneshwy Fargas, who was among the minor league's top base stealers with 50. Fargas has been traded to the New York Mets organization.
New digs: Virginia Commonwealth University has purchased 10.94 acres of land on Hermitage Road for a future Athletics Village. Part of the plan includes a new ballpark to be shared by VCU and the Flying Squirrels. There is no firm timetable on completion.
The property had been owned by Greyhound Lines and was used for maintenance. The cost of the deal was $11.75 million.
The Flying Squirrels and previously the Richmond Braves have played at The Diamond since 1985. The Diamond has also been VCU's home field for decades.