Local quilt guild makes face masks for VCU health workers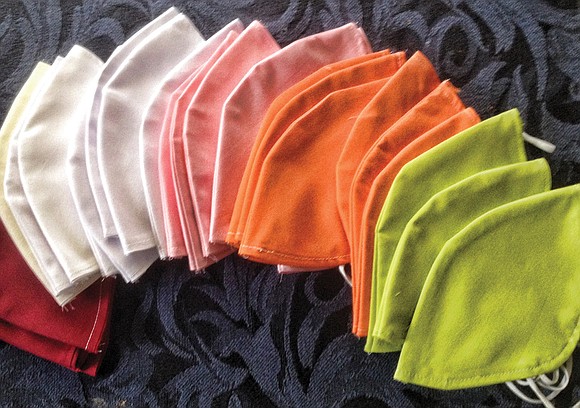 Naima Wares-Akers and her legion of Richmond area quilters are filling a deep gap in keeping hospital employees and other health care workers safe from the coronavirus.
The Kuumba Quilt Guild is in the process of making cotton masks to cover the N95 respirators and surgical masks used by VCU Medical Center staff.
"We know the hospital services a lot of African-Americans," said Ms. Wares- Akers, organizer of the guild's project.
"There are a lot of people there that might have contracted COVID-19 and we want our health care workers to be protected."
Presently, seven active quilters with the guild have produced about 100 masks, with an additional lot of material coming from Philip "Muzi" Branch, director of cultural programs for VCU Health System and Arts in Health Care.
Just like other hospitals in the state and around the country, the VCU Health System is short on personal protection equipment, Mr. Branch said.
"I was asked to find community artists who would be interested in helping with that initiative," he said. "Since we have been re-using N95 masks, we asked the community to make masks to cover the N95s. This will keep them cleaner and in service longer." Kuumba Quilt Guild, with a mission of supporting the Richmond community with
service projects, answered the call. The guild's operation to make the masks is simple and uses social distancing in the process.
"The hospital provides the quilters with the fabric for the masks due to the specifications needed to be effective in protecting people using them," Ms. Wares-Akers told the Free Press.
The hospital's "staff cuts the cotton fabric in rectangles and provides the elastics. We then cut and sew the patterns," she said.
The supply chain to the guild starts at Ife Robinson's hair salon, Indigo, in Jackson Ward where the supplies are delivered. The fabric then is transported to Ms. Wares-Akers' home, where she picks it up at the fence outside her home.
Ms. Wares-Akers said she then calls each quilter, who picks up the material – using social distancing – and takes it home to sew. The quilters are tasked with making 10 masks each.
Mr. Branch said he also reached out to the Sisters of the Yam, a group of fashion and craft designing students at Virginia Commonwealth University.
In total, the two groups have produced more than 350 masks.
"What all of the groups are doing is a labor of love," Mr. Branch said. "I would say that the project is akin to art therapy."