Chris Shelton of Louisa steps up this season for HU Pirates
Fred Jeter | 12/10/2020, 6 p.m.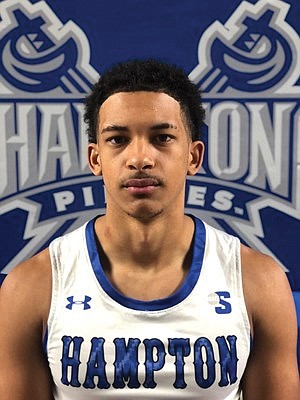 Hampton University's Chris Shelton wears the same jersey number — 12 — as he wore last year.
That said, most of the other pertinent numbers concerning his expanded role figure to change dramatically.
After spending last season stuck on Coach Buck Joyner's launching pad, the sophomore from Louisa made a take-notice takeoff in his first start with the Pirates on Dec. 1 at George Washington University.
Playing 39 minutes in a tense 82-78 HU victory, Shelton scored 19 points while hitting five three-pointers. He also had five rebounds.
"Chris is one of—if not the best—perimeter shooter on the team," Coach Joyner said. "All our players concentrate on defense and rebounding, but his role is primarily to take shots and make shots."
As a freshman, Shelton averaged only about eight minutes and two points a game, playing behind a veteran cast featuring HU all-time scorer Jermaine Marrow.
"I waited my turn, and when my opportunity came, I felt like I was ready," said the 6-foot-4 computer science major.
The name Shelton may sound familiar to Richmond area hoops fans.
Shelton's father, Robert, also starred at Louisa High School before going on to play at Ohio State University from 1994 to 1995 and Virginia Commonwealth University from1996 to 1997.
Robert Shelton was his son's coach at powerhouse Louisa High. The Lions were the State 4A runner-ups to George Washington High School in Danville in 2019, with Chris earning State Player of the Year honors.
Coach Joyner was in the bleachers at VCU's Siegel Center to watch Shelton score 31 points in the state finals.
"We didn't know that much about him before," Coach Joyner said of Shelton. "But leaving the gym that night, we knew we wanted him wearing a Hampton uniform."
Robert Shelton, who led Louisa to the State Group AA 1994 finals, has been a major influence in his son's life on and off the floor.
"He has always been my coach on the floor and my father off it," said Chris. "He taught me to have discipline, stay humble and keep grinding."
Academics always have come first in the Shelton household. At Louisa, he was inducted into the National Honor Society.
During this past offseason spent at home because of the pandemic, Shelton concentrated on honing the finer points of his game and also improving his physical conditioning.
"My father and I worked on drills every day in Gum Springs," Shelton said of his hometown.
Knowing more would be expected of him, Shelton returned to Hampton as a sophomore with noticeably more muscle, stamina, agility and a spike in confidence.
For his physical training, Shelton traveled to DNA Fitness in Glen Allen for a rigid strength and conditioning program under club owner and Armstrong High School alumnus Darryl Ellis.
"I call Chris a 'weight room bully,'" Ellis said. "He attacks every exercise. In three months, he never had a bad workout."
Hampton reached the Big South Conference Tournament finals last season, but the Pirates' roster took a beating through graduations and defections.
Minus Marrow, this season's Pirates will need last season's players, such as Shelton, to play more aggressive roles.
Shelton said he's primed for any challenge as the Pirates charge into Big South play.
"My dad always taught me, 'Don't settle, keep going, be greedy,' " he said.
If "greedy" means popping three pointers, Shelton believes he's the man for the job. "If the shots are there, I need to step up and make them," Shelton said.
Mark your calendar
Hampton University's scheduled basketball home opener against Regent University of Virginia Beach for Dec. 10 has been canceled because of positive COVID-19 tests.
With that, the Pirates' first home game will be 6 p.m. Wednesday, Dec. 16, against the College of William & Mary.