Integration of Negro Leagues' stats into MLB called 'marketing genius' by former player
Fred Jeter | 12/24/2020, 6 p.m.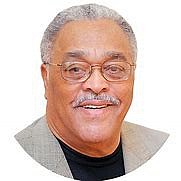 Don't be surprised if there's a spike in sales of old Negro League baseball gear— and just in time for the holidays.
Former Negro Leaguer Ken Free suggests finances may be a motivating factor behind Major League Baseball's deci- sion to give the Negro Leagues Major League status.
"A show of marketing genius," Free, now 81, told the Free Press from his home in Greensboro, N.C.
What better present than a throwback jersey of the Birmingham Black Barons, the Kansas City Monarchs, the Detroit Stars, the Homestead Grays or others? It could be especially attractive if the jersey has a name like Josh Gibson, Ray Dandridge, Satchel Paige or Cool Papa Bell—all Negro League legends—on the back.
"But then, it was a marketing tool that led to Brooklyn signing Jackie Robinson in 1947," Free added. Instead of being loyal to the Negro Leagues, Black people began attending MLB games in greater numbers.
There also is hope by everyone associated with baseball that by getting the Negro Leagues back in the headlines, it might help encourage young Black children to pick up the game.
Following a stint in the military, Free played several seasons in the 1950s with a Negro League minor league affiliate, the barnstorming Greensboro Redbirds.
"Our goal was to play and be seen" by Major League scouts, Free said. "No clowning around. No gimmicks."
Free suited up with the touring Raleigh Tigers in 1959 and was selected for the final Negro League All-Star Game at Chicago's Comiskey Park.
In 1960, he joined another barnstorming squad, the Brooklyn Cuban Giants, where he was a teammate of the legendary Paige.
Then in his 50s, "Satchel pitched at least two innings every game," Free said. "That was in his contract."
The Cuban Giants traveled in the same bus with the Winston-Salem Giants, and sometimes the rosters were mixed and matched to fit the occasion.
That earned Free, a third baseman, a contract with the New York Mets. He played in the Mets' farm system from 1960 to 1964, posting a career average of .289 in 528 games.
Free went on to become the first full-time commissioner of the Mid-Eastern Athletic Conference in 1978 and helped navigate the cluster of HBCU schools into NCAA Division I.
Free remained MEAC commissioner until 1996 and was instrumental in luring Norfolk State and Hampton University from the CIAA to the MEAC.
In 1987, Free became the first Black man to serve on the NCAA Division I Basketball selection committee.
Free refers to the old Negro Leagues as "a minor league system on wheels."
"You drive all night on a bus and play a game the next day," he recalled.
"I remember one bus ride where we went from Greensboro to Newark overnight. And sure enough, the bus broke down. We were so tired. But then someone told us there were three (Major League) scouts in the stadium, and we perked right up."
With all the travel involved, often on rickety buses, it wasn't easy being a Negro League ballplayer. "But if you haven't ever known any different, you don't complain," Free said.
Now with Major League status, it is reasonable that Negro League gear and memorabilia might be on the uptick now that the dust has been shaken off the shelves.
Have you gotten your Josh Gibson replica jersey yet?