Begin Again
City Council majority strikes $1.5B Coliseum and Downtown development project, urging the administration to start over with public inclusion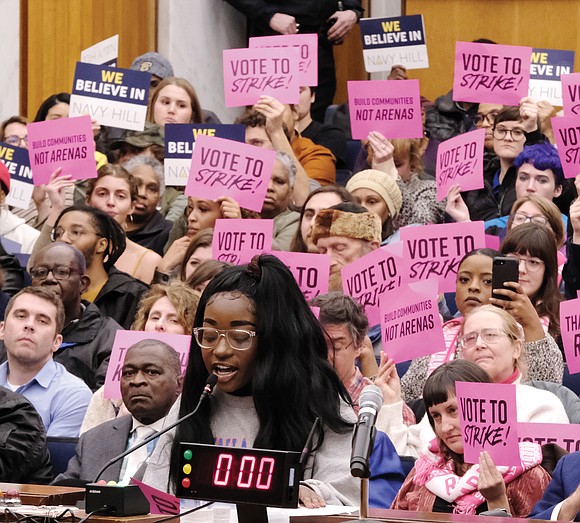 "Tonight is not about saying 'no,' " said 5th District Council- woman Stephanie A. Lynch before joining Council Vice President Chris A. Hilbert, 3rd District; Kim B. Gray, 2nd District; Kristen N. Larson, 4th District; and Reva M. Trammell, 8th District, in scrapping the Navy Hill ordinances.
"It is about saying 'yes' to a pathway forward that a major- ity of our citizens said they want," said Ms. Lynch, including finding out whether Richmond residents support replacing the Coliseum with a new, larger one at taxpayer expense.
In the view of Ms. Lynch and her colleagues, the vote "to hit the reset button on the current proposal" opens the door to creation of an inclusive and equitable process to redevelop the 22 acres of largely city-owned property in the blocks bounded by Marshall, Leigh, 5th and 10th streets, as well two blocks south of Broad Street.
In their view, a restart would require the Stoney administration to first launch public forums, surveys and wide outreach to deter- mine if Richmond residents want a new arena. They also called on the administration to get the city-owned property appraised, to complete a plan of development for the area that includes public input, to provide an assessment of the infrastructure and then issue new requests for proposals from developers.
"I think there are opportunities," said Ms. Gray, who is consid- ered a potential challenger in November to Mayor Stoney. "This process needs to be transparent and involve the people from the beginning."
The minority, led by Council President Cynthia I. Newbille, 7th District, unsuccessfully sought more time to make the plan more palatable before the vote that had been scheduled for Monday, Feb. 24.
"Our city and our citizens deserve our due diligence on any project before us to fully vet it," Dr. Newbille said. "Not to try is not acceptable."
Joining her were Andreas D. Addison, 1st District; Ellen F. Robertson, 6th District; and Dr. Michael J. Jones, 9th District. Ms. Larson called it time to end the proposal. She said the
long fight over the development, particularly since August when Mayor Stoney introduced the ordinances, has consumed her and other council members and forced other important matters to get short shrift. "I think it doesn't matter if you're for or against this process; I think we are all worn out."
For the majority, the key issue remained just one section of the proposal — the plan to replace the aging and now closed nearly 50-year-old Coliseum with a new larger event space for concerts, sporting events and family activities.
The proposal for a modern 17,500-seat arena would have required taxpayers to bear much of the estimated $600 million cost to finance the construction — in large part from real estate taxes generated by future increases in values on property located in an 80-block swatch of Downtown outside of the proposed development area.
A commission of experts that the council created to review the Navy Hill plan ended up panning that idea. Mayor Stoney lobbied the General Assembly in a bid to gain permission to replace a major share of the financing with state sales taxes as other cities have been allowed to do, but that effort collapsed Feb. 3.