New research reconsiders writings of enslaved Muslim scholar
2/14/2020, 6 a.m.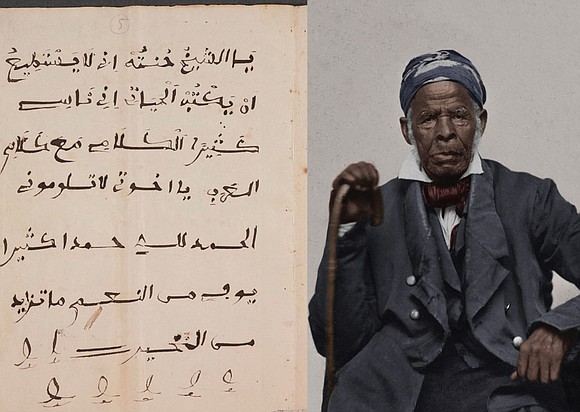 He was from Senegal, wrote in Arabic and was enslaved. Or was he an Arab prince? He was a scholar who memorized vast passages of the Quran and mastered numerous Islamic texts. Or were his writings unintelligible? He was a devout Muslim. Or did he convert to Christianity?
These are just some of the conflicting narratives about Omar ibn Said (or more correctly Sayyid), a black Muslim scholar captured in Senegal in 1807 and taken by boat to Charleston, S.C.
He eventually fled to North Carolina and lived out his days as a house slave to James Owen and his brother, onetime North Carolina Gov. John Owen.
Two North Carolina university professors are now editing what may be the first comprehensive transcription and translation of 15 existing documents written by Mr. Said in Arabic — including his short autobiography — and in the process hoping to correct the historical record about the mysterious Muslim polymath.
Mr. Said has long been a subject of fascination, both in his lifetime and in the 156 years since his death. Last year, the Library of Congress published on its website a digital version of Mr. Said's autobiography, making it widely available and reigniting interest in the writer.
That interest is in no way confined to scholars. Grammy Award winner Rhiannon Giddens, known for exploring African-American folk traditions and turning them into ballads, was commissioned to write and perform an opera based on Mr. Said's autobiography. "Omar" will premiere May 22 in Charleston, S.C., as part of the Spoleto Festival USA.
In recent years, however, scholars have criticized Mr. Said's work, claiming it is filled with grammatical mistakes and omissions, especially when he quotes from the Quran. Others have suggested his writing is unreadable.
But on closer inspection, two scholars — one at Duke, the other at the University of North Carolina at Chapel Hill — now say researchers have missed key Arabic sources Mr. Said quotes in his writings, as well as his strategy in using those quotations.
The two scholars, speaking at the recent Black Muslim Atlantic Symposium at Duke University, said scholars have underestimated Mr. Said's intel- lectual and scholarly training and his ability to use that train- ing to compose something that had significant meaning.
Multiple legends have grown up around Mr. Said since his death in 1864, said Dr. Mbaye Bashir Lo, a professor in the department of Asian and Middle Eastern Studies at Duke University.
"Omar is highly misunderstood and unknown," said Dr. Lo.
In the post-Reconstruction era, many white Americans thought Mr. Said must have been an Arabian prince who mistakenly wound up in servitude. A black man of African origin could not possibly read and write in Arabic.
In fact, Dr. Lo said, many people in the region now known as Senegal were more literate in the 19th century than the average Western European. Like Mr. Said, who probably spoke the Fulani language (he was a member of the Fula ethnic group), people of the region spoke multiple languages. Arabic was the language taught in schools.