New research reconsiders writings of enslaved Muslim scholar
2/14/2020, 6 a.m.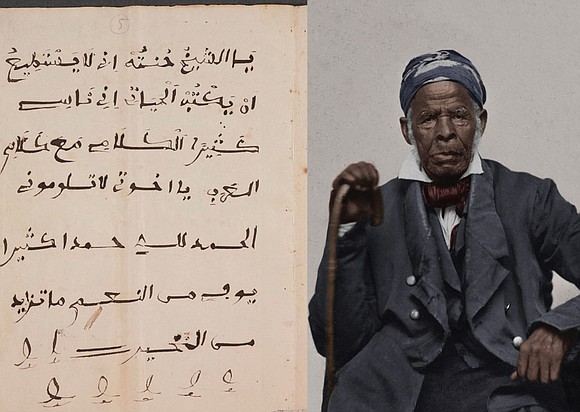 In the 1980s, as scholars began to explore Islam's roots in America, Mr. Said once again became widely discussed. Scholars disagree over the number of Muslims brought to the Americas as slaves during the antebellum period, with estimates ranging from 40,000 in the United States to 3 million in North and South America. But there's no ques- tion that Islam has been woven through American history from the start.
Like so many Muslims who were enslaved, Mr. Said was said to have converted to Christianity. But neither Dr. Lo nor Dr. Carl W. Ernst, professor of Islamic studies at the University of North Carolina at Chapel Hill and Dr. Lo's partner on the project, is convinced this actually happened.
If it did, they wonder if the conversion was sincere.
Mr. Said was given a Bible in Arabic by his owner, and his writings attest that he knew at least four biblical passages. But he continued to quote from the Quran and other Muslim sources throughout his life and may have been interpreting Christianity through the lens of Islamic theology.
One of Mr. Said's manuscripts at the UNC library is titled "The Lord's Prayer in Arabic." But on the back of the paper, Mr. Said wrote a chapter from the Quran. "I think it's overwhelmingly probable that he learned those passages in order to perform them orally at the request of his owners," Dr. Ernst said.
Mr. Said's autobiography, written in 1831, may be the only slave narrative written by an enslaved person still held captive. In it, he describes his journey to Charleston, his escape from the hands of a "wicked" slave owner named Johnson — "a complete infidel who had no fear of God at all" — and his flight to Fayetteville, N.C., where he stopped to pray in a church.
After a boy discovered him in the church, he was arrested and taken to a jail. There, he picked up a piece of coal and began writing on the cell's walls in Arabic, instantly drawing the attention of his jailers. James Owen of Bladen County, south of Fayetteville, recognized Mr. Said to be an educated man and bought him from his South Carolina owner. He spent his final years in North Carolina.
In one document — an 1819 two-page letter Mr. Said addressed to Mr. Owen — the two professors identified five citations Mr. Said used that have thus far eluded scholars. Mr. Said's writings are loaded with quotations he wrote down from memory.
With the aid of the internet, as well as older Muslim textbooks from West Africa and the Middle East, the professors found that Mr. Said quoted from a 12th century Andalusian Sufi master and also from a 16th century Egyptian theological poem.
"I see signs of a writer who is very careful," Dr. Ernst said at the symposium. "Even if he is making some mistakes due to the oral nature of his education, it is unconscionable for arrogant Orientalists to sit there and tell (us) what is wrong with the author of the text when they don't understand what is in there."
Dr. Ernst's and Dr. Lo's critical edition of Mr. Said's writings will be published on-line in digital form as part of the Islamicate Texts Initiative at the University of Maryland.
Dr. Ernst said people's fascination with Mr. Said suggests something about the expectations people still have of American slaves. And that, he said, is what drives him to research him.
"We have to have a way of understanding how someone like him could have lived the life he did surrounded by people who couldn't understand him at all."