From tribal college to VUU, Railey has growing power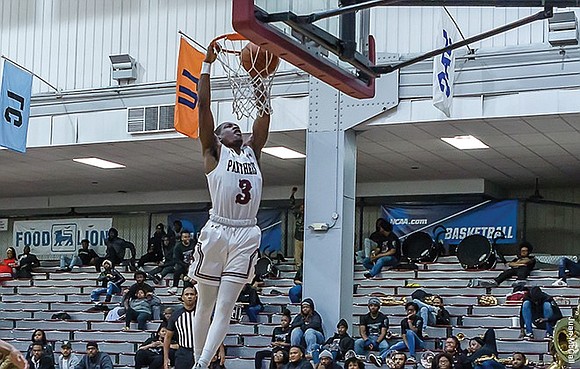 It's not where you come from, but how you play the game that counts.
Tyriek Railey is making an impression at Virginia Union University despite having arrived from a school few Richmonders have ever heard of.
The slender 6-foot guard is in his first season with the VUU Panthers after spending two previous campaigns at Little Priest Tribal College in Winnebago, Neb., the site of the Winnebago Tribe reservation.
The two-year school is a member of the Iowa Community College Athletic Conference and National Junior College Athletic Association Division II.
Affiliated with the Winnebago Tribe of Nebraska and American Indian Higher Education Consortium, Little Priest (Mascot: The Warriors) has a listed enrollment of just 135. More than 90 percent of the students are Native American.
The Warriors play home games at Winnebago High School.
"It's very small — just one building," said Railey, who has no Native American ancestry, of his former school.
"Just about everyone is native, but they took me in as family. I guess it helped they saw I had some talent."
That same hard-court talent has made him popular at VUU's Barco-Stevens Hall, as well.
Known as "Ty," the business major is Coach Jay Butler's third-leading scorer (an aver- age of 8.9 points per game) behind Terrell Leach and Jordan Peebles.
He is second behind Leach in total 3-point connections (35) and first in accuracy (41 percent) among regulars.
When he's hot, he's hot. Railey had 24 points in VUU's game against Johnson C. Smith University and 22 points against Virginia State University, when he hit 5-for-5 outside the arc.
So how did he arrive at VUU?
"No, I didn't go to Nebraska to recruit him," said Coach Butler, chuckling at the notion. "I found out about Ty through his old AAU coach (Joey Simmons). He's come in, quickly picked up our system and become a scorer for us."
Originally from Jacksonville, Fla., Railey was an All- First Coast All-Star selection at Wolfson High School, averaging more than 20 points per game. He also drew oohs and ahhs for his jumping, often competing in dunk contests against much taller opponents.
Rated a three-star prospect, he had a firm scholarship offer from his hometown school, Jacksonville University, and garnered interest from the likes of Murray State University in Kentucky, as well as Virginia Tech and Virginia Military Institute.
Needing to strengthen his academic credentials, Railey first headed west to play at Iowa Western Community College in Council Bluffs.
When "things didn't work out" there, according to Railey, he hooked up with Little Priest Tribal College, perhaps the smallest U.S. school to field an intercollegiate squad.
It helped that Little Priest Coach Michael Hadley is familiar with HBCU hoops, having played at North Carolina Central University, Class of 2000.
"The coach at Western Iowa called me and told me he had a player (Railey) he couldn't use — said he couldn't shoot," Coach Hadley recalled.
"I decided to take a chance and found he could not only shoot, but jump, too. He was one of our best players."
Railey averaged about 14 points for Little Priest, yet received only one four-year scholarship offer — from Coach Butler at VUU.
At this point, VUU cares nothing of Railey's obscure recent past. Instead, the Panthers view him as their diamond in the rough.