Detroit Pistons' Andre Drummond heading for another rebounding title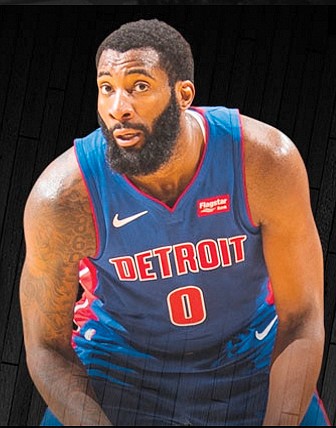 Andre Drummond is building a case to be recognized as the NBA's top rebounder of the 21st century.
The bruising 6-foot-10, 280-pound Detroit Pistons center has won the rebounding title three of the past four years and is well on his way to making it four of five.
After 30 games this season, the 26-year-old native of Mount Vernon, N.Y., was averaging 15.9 rebounds per contest. That's well ahead of second place Clint Capela, averaging 14.4 for the Houston Rockets.
Drummond's career 13.8 average is tops among active players.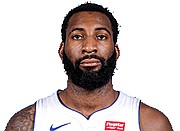 Here's how he described his success to the Hartford Courant newspaper: "I want it more. That's all it is," he said of the physical battles under the backboards. "Nobody wants to get hit every possession going for the rebound, but I do."
The 2012 first round draft pick out of the University Connecticut was the NBA top board man in 2016 (averaging 14.8 rebounds per game), 2018 (16.0 rebounds per games) and last season (15.6 rebounds per game).
Drummond's 16 rebounds-per-game norm in 2018 was the best since the Chicago Bulls' Dennis Rodman won the title with 16.1 rebounds per game in 1997.
Wearing jersey No. 0, Drummond is more than just a rebounder. He averages 18 points and two blocked shots a game, while hitting 56 percent from the field.
His weakness is clearly the foul line, where he has connected on just 46 percent for his career.
But Drummond doesn't lack confidence.
"I think I'm the best (rebounder) of all time," he told The Detroit News. "I don't think anyone is remotely close to me."
The big fellow may need to check the record book regarding that boast, however.
Wilt Chamberlain is the NBA's all-time leader in most rebounding titles —11; highest average for season — 27.2 in 1961; and highest career average — 22.9.
However, in fairness to Drummond, Chamberlain had more opportunities.
Drummond has averaged just 31 minutes per game for his career, while the tireless Chamberlain averaged 45.8 minutes per game, including a record 48.5 minutes per game in 1962.
Chamberlain, with 11 rebound titles, is followed by Dennis Rodman, seven; Petersburg's Moses Malone, six; Kevin Garnett and Dwight Howard, five each; and Bill Russell, four.
Howard, who went straight from high school to the NBA, won rebound crowns in 2009, 2010, 2012, 2013 and 2014. Tied with three rebounding titles are Drummond, Elvin Hayes and DeAndre Jordan.
Virginia Union University star Ben Wallace won two rebounding titles with the Pistons in 2002 and 2003.
The two-time, All-Star Drummond is making $27.5 million this season in the final year of his current contract. He becomes a free agent at the end of this season. Drummond played just for his freshman season at the University of Connecticut before opting for the NBA draft. He was selected ninth overall by Detroit. While his "best ever" claim may seem far-fetched now, he likely has another 10-plus seasons to keep adding to his rebound collection.
Whatever the final tally, anytime a player is in same conversation with Wilt Chamberlain, he's on the fast track to the Naismith Memorial Basketball Hall of Fame.