Former St. Christopher's players making impact on college teams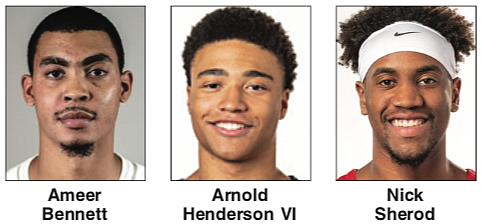 College basketball players from Richmond's St. Christopher's School are popping up all over.
No less than five former Saints standouts — all having played under Coach Hamill Jones — are competing on the NCAA Division I level.
Making an impact at Delaware State University, which is part of the Mid-Eastern Athletic Conference, is Ameer Bennett, a 6-foot-8, 220-pound junior.
Bennett is averaging 12 points and eight rebounds for the Hornets, while logging 30 minutes per outing. Bennett has not backed down from the toughest teams on Delaware's slate. He had 13 points against Virginia Tech and 13 points and nine rebounds against the University of Georgia.
A standout junior guard at Lafayette College in Easton, Pa., is 6-foot-2 junior guard Alex Petrie, who was the Patriot League Rookie of the Year as a freshman.
After averaging 15 points per game as a freshman and sophomore, the former Saint is currently sidelined with a medical condition. The Atlantic-10 Conference especially is well represented by former players at the West End private school founded in 1911. At St. Louis University, a freshman contributor is 6-foot-5 Gibson Jimerson.
Jimerson, though sidelined with a foot injury, averages 11 points for the Billikens while hitting 43 percent from beyond the arc. Closer to home, junior guard Nick Sherod averages 14 points per game for the University of Richmond. Sherod, the grandson of former Virginia Commonwealth University basketball star Ed Sherod, is the Spiders' leader in 3-pointers with 36.
St. Christopher's contribution to VCU's roster is walk-on freshman guard Arnold Henderson VI, nicknamed "Six." Coming off the bench with much energy, Henderson has played in five games this season with a 3-pointer to his credit.
Henderson, the nephew of former Rams great Gerald Henderson, was once a VCU ballboy.
The Prep League school does its part to promote Saints hoops.
Home and away games are streamed on YouTube, with St. Christopher's students handling the camera and commentary and writing articles for the school website and campus newspaper.
The broadcasts form one aspect of a program called Sports Information under the direction of Assistant Coach Steve Lewis.