RRHA board takes major step to redevelop Creighton Court
Jeremy M. Lazarus and George Copeland Jr. | 1/24/2020, 6 a.m.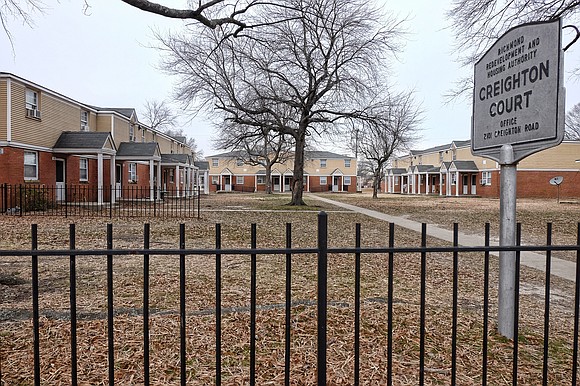 New homes and apartments could begin to rise in Creighton Court within one to two years, if the financing can be arranged, according to the Richmond Redevelopment and Housing Authority.
Brushing off housing advocates who came to raise issues, RRHA's board took another step Jan. 15 to fulfilling the long-standing goal of replacing the 504-unit public housing community located off Nine Mile Road in the East End with a mixed-income community that could include 750 to 1,000 modern residences.
After sharply limiting public comment, the six members of the board who were present voted unanimously at the Jan. 15 meeting to authorize RRHAChief Executive Officer Damon Duncan to submit a formal application to the U.S. Department of Housing and Urban Development to redevelop the public housing community situated at the city's border with Henrico County.
The approved resolution backed Mr. Duncan's submission of an application two days before the meeting for HUD approval to demolish and dispose of 192 housing units in Creighton Court and cleared him to later submit an application to deal with the remaining 312 units.
"Some things don't need to continue to be re-vetted over and over and over," Mr. Duncan said. "This is just a step along the way in the process."
Still, the action came with apparently little warning for residents and housing advocates, with RRHA listing it on its agenda only one day before the short but contentious meeting.
The application is required because HUD owns the property and must approve any changes.
The board, led by Veronica G. Blount, a city Health District community advocate, allowed only a few people attending the meeting to speak by imposing a rule permitting individuals to address the board once every 90 days. That enabled Ms. Blount to block some people who had spoken at past meetings.
HUD previously found RRHA in violation of regulations requiring it to receive comments from residents and the public before submitting applications and plans.
With RRHA optimistic of gaining approval for the redevelopment based on informal discussions with HUD, "revi- talization efforts are anticipated to begin in Creighton Court in 2020, with new construction activities in 2021 and 2022," RRHA spokeswoman Angela Fountain stated in a fact sheet distributed at the meeting.
Ms. Fountain stated that HUD's Office of Fair Housing and Equal Opportunity would guide RRHA's efforts to transform the community. She also stated that RRHA would "offer a range of housing options" to affected residents.
One potential roadblock to approval is RRHA's apparent violation of HUD regulations governing submission of such an application. The includes failure to hold a public hearing and failure to include any notice of its plan to seek a "demolition and disposal" permit for Creighton Court from HUD in its 2020 annual plan, which has yet to be approved.
RRHA's 2020 annual plan was rejected by HUD in September for failure to ad- equately consult with residents. The housing authority has not publicly announced any steps to secure approval.
Omari Al-Qadaffi, a community organizer who has been advocating for RRHA to be more transparent and to engage more with the community, criticized the authority for the one-day notice.