Richard Bland student is a hoops legacy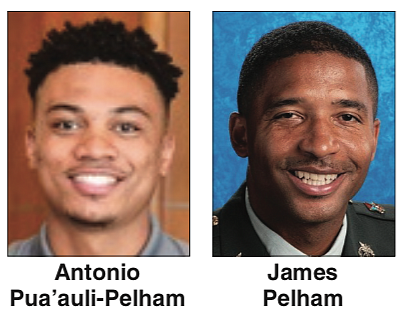 One family has treated the Tri-Cities area to three scoops of hoops.
Antonio Pua'auli-Pelham represents three generations of basketball excellence in the Tri-Cities area.
The Richard Bland College freshman can trade hoops stories with his father, James Pelham, and grandfather, Leon Winfield.
First about Antonio:
His hyphenated last name comes from his mother Star's maiden name, Pua'auli (she is of Samoan ancestry), and his father.
The 6-foot-7, 220-pound "stretch four" averages nine points and 6.9 rebounds for Bland's National Junior College Division I program. The Statesmen were 9-9 entering this week's action.
"Antonio does a lot of things well," said Coach Andrew Lacey. "He's a thick 6-7, so he can rebound. He can shoot the score inside and outside. Also, being a coach's son, he's got a good feel for the game."
Pua'auli-Pelham's father, James Pelham, was an All-State guard for Hopewell High School and went on to play on full scholarship at James Madison University in the mid-1990s.
More recently, Pelham coached the prep team at Fork Union Military Academy.
Pelham's father is Leon Winfield, who earned state tournament MVP honors in 1972 in leading Hopewell High to the State AAA crown.
Pelham now resides in Columbia, Va., and runs his mentoring business, "Believe in Me Family Services."
Both Pelham and Winfield played at Hopewell under revered Coach Bill Littlepage, who is among Virginia leaders in victories.
Pua'auli-Pelham said this of his role for Bland's Statesmen publication:
"I can play down low and bang, or I can play outside. I like to think of myself as being versatile."
Pua'auli-Pelham said he hopes to eventually play at JMU, like his dad.
"JMU has shown some interest," said Pua'auli-Pelham.
On visits home, he doesn't have to look far for someone to go one-on-one with. His younger brother, James Pua'auli-Pelham, is a promising junior guard for Hopewell High's powerhouse program.
This family tree of athletic jump shooters has many branches.