Gone!
After more than 100 years, the statue of Confederate 'Stonewall' Jackson on Monument Avenue comes down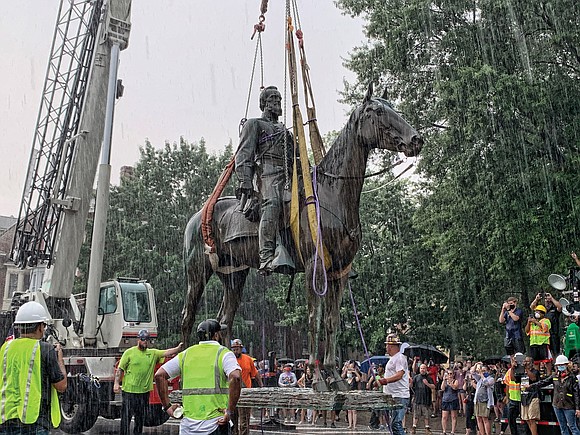 Goodbye, "Stonewall" Jackson.
So long, J.E.B. Stuart, Matthew Fontaine Maury and maybe A.P. Hill.
The removal of city-owned statues of those Confederates and other champions of slavery and white supremacy began on Wednesday, with the bronze statue of Confederate Gen. Jackson hauled from the perch it has occupied for more than 100 years at Monument Avenue and Arthur Ashe Boulevard.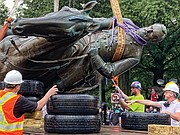 Cheers rang out from hundreds of people watching at the intersection as a large crane hoisted the statue from its granite base. Bells from a nearby church began to peal, the crowd jubilant even in the sudden downpour near the end of the 31⁄2-hour job to secure the heavy statue and carefully remove it from its base.
With the entire operation being livestreamed on social media, more than 250,000 people reportedly tuned in to see the statue being lifted and then lowered onto a flat-bed truck. It was taken to an undisclosed storage facility, where city officials said it will remain until a decision is made on what to do with it.
Chants of "Black Lives Matter" and "Take it down" erupted from the crowd.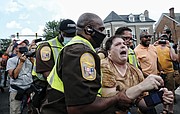 The swift action marks a historic moment for the former capital of the Confederacy, where such oversized symbols of oppression seemed permanently affixed to the landscape. "Today is a monumental step in the history of the City of Richmond," Delegate Lamont Bagby, chairman of the Virginia Legislative Black Caucus, said in a statement later Wednesday evening.
"The long overdue removal of these statues is an important step toward honestly and clearly addressing our city, our Commonwealth and our country's past. This removal was an answer to the countless calls from our Virginia communities, our members and many others to take Virginia into a new, more just tomorrow."
The prospect that Richmond would follow in the footsteps of other big and small localities that already had removed Confederate statuary had long seemed remote, but July 1 marked the city's day of independence from such icons of the "Lost Cause." The Virginia General Assembly, for the first time under Democratic control in more than two decades, voted earlier this year to give localities control over Confederate statues within their jurisdictions beginning July 1.
To get the city's statues down quickly, Mayor Levar M. Stoney declared a public safety emergency early Wednesday in his capacity as director of emergency management and authorized the city Department of Public Works to remove the statues and place them in storage to await a plan of disposal.
The only Confederate statue that is to remain is the largest, that of Gen. Robert E. Lee at Monument and Allen avenues. That statue is owned by the state, and Gov. Ralph S. Northam's effort to remove it is now tied up in a court fight.
The exact timetable for removal of the other city-owned statues on Monument Avenue, including those of J.E.B. Stuart and Matthew Fontaine Maury, was uncertain at Free Press deadline on Wednesday night.
The city has been under a state of emergency since March 31 because of the outburst of protests sparked by a police officer's killing of George Floyd in Minneapolis. The state of emergency is to continue now until the end of July.
Mayor Stoney told City Council on Wednesday morning that his emergency order to take the statues down "would remove a dark shadow" and enable the city "to begin to heal and allow us to focus our attention on the future."
He said it is time for the city to take down Confederate shrines and begin the process of replacing them with "righteous cause symbols" that better reflect and embrace "the diverse and inclusive city that Richmond seeks to be."
In a resolution he submitted to the council and in public remarks, Mayor Stoney justified the "temporary" removal of the statues based on the risk of injury or death to protesters who have previously sought to topple statues as part of their ongoing demonstrations over racial in- justice and police brutality. Five smaller statues in the city already have been pulled down by protesters, including one of Confederate President Jefferson Davis on Monument Avenue.
Mayor Stoney started the removal without the required approval of City Council, but only after most council members signaled their support at a special session held two hours before the removal began.
Council President Cynthia I. Newbille, 7th District, said she would call a special meeting, but then abruptly canceled it without explanation. That meeting was set for 1 p.m. Thursday, July 2.
Dr. Newbille could not be reached for comment.
The mayor appeared to have at least six of the nine council members supporting his resolution to remove the statues.
The governing body was warned against acting immediately because of the absence of 8th District Councilwoman Reva M. Trammell, who is still recovering from a severe injury. City Attorney Haskell C. Brown III advised Wednesday morning that all nine members had to vote to override a City Charter provision requiring 24-hours notice before the council could consider the resolution.
Mr. Brown said he is still of the opinion that the mayor and council cannot use the emergency provisions of state law to remove the statues, but he said that the council can override him.
On June 22, the council and the mayor halted efforts to begin removing the statues based on Mr. Brown's opinion, though the current state law effective Wednesday includes a provision barring lawsuits against the city for removing statues and no longer makes mention of a potential felony charge that Mr. Brown cited.
Mayor Stoney said the city Department of Public Works would be allowed to spend $1.8 million on the statue removal, but anticipates much of the money could be reimbursed from a private campaign seeking to raise $2 million through the Maggie Walker Community Land Trust to cover the cost.
Before the removal process began, the council used the 11 a.m. meeting to introduce an ordinance to begin the 60-day clock for permanently remov- ing the statues and to introduce other ordinances and resolutions to usher in police reforms, includ- ing creation of a civilian review board to review complaints about police abuse and misconduct and a mental health alert system.
The introduced legislation also would seek to ban police from using tear gas, rubber bullets, pepper spray and other noxious chemicals on protesters and to shift funding from the Richmond Police Department to other city agencies addressing public health, mental health and social services issues.
The ordinance on statue removal relies on the new state law that went into effect on Wednesday and gives localities authority to take down and dispose of unwanted war memorials. The state law also spells out a 60-day process of advertisement and public hearings to accomplish that purpose.
The new statute also appears to remove any legal barriers to City Council action, including other state laws and local charter provisions. That would enable the council to bypass the city Planning Commission, which by charter controls city-owned statues, and the city Commission of Architectural Review, which under the city code governs city Old and Historic Districts. Monument Avenue and its statues are listed on the Old and Historic District that runs between Lombardy Street and Roseneath Road.