Remnants of the Confederacy
The statue of Gen. J.E.B. Stuart, the last of the four city-owned Confederate statues on Monument Avenue, was taken down and moved to storage Tuesday
Jeremy M. Lazarus | 7/9/2020, 6 p.m. | Updated on 7/10/2020, 6:20 p.m.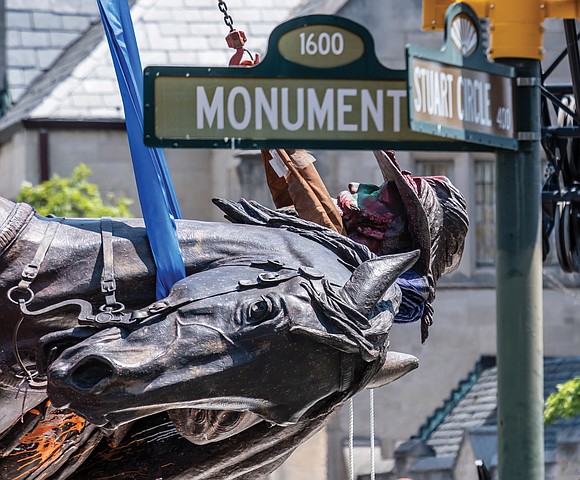 The former capital of the Confederacy has largely been wiped clean of the racist statuary that has long dominated the landscape.
As of Wednesday, the four city-owned Confederate statues and two cannons had been taken off Monument Avenue, leaving only the state-owned statue of traitorous slavery-defender Gen. Robert E. Lee. The removal of his six-story, 12-ton statue is tangled in a still unresolved legal fight and an injunction issued by Richmond Circuit Court Judge Bradley B. Cavedo.
At the same time, the Richmond Police Department has stopped confronting the dwindling numbers of protesters whose energy and outrage over racism enabled City Hall to do what long seemed impossible — rid Richmond of its symbolic veneration of white supremacy.
The emergency action by Mayor Levar M. Stoney has been accompanied by efforts to remove Confederate symbols and names elsewhere. Along with a call from Gov. Ralph S. Northam for Virginia's public schools to remove Confederate names — an action Hanover County is still resisting — James Madison University plans to rename three buildings, while the faculty at Washington and Lee University is urging a name change to eliminate ties with Confederate Gen. Lee.
In Powhatan County, Black students have been joined by a diversity group in calling for schools to ban Confederate flags and symbols from school grounds.
But Richmond remains the center of attention as it gets rid of the statues and prepares to rename at least one bridge and a portion of a major thoroughfare.
On Tuesday, the statue of Confederate Gen. J.E.B. Stuart was removed. On Wednesday, the statue on the towering Confederate Soldiers and Sailors Monument in Church Hill was taken down after 126 years of lording over Libby Hill Park.
Just two Confederate statues remain in the city — an unblemished six-foot stone cross in Monroe Park honoring Confederate cavalry officer Fitzhugh Lee, a nephew of Gen. Lee, which is likely to be removed this week, and a statue of Ambrose P. Hill at Laburnum Avenue and Hermitage Road in North Side. It is proving tougher to remove because it sits atop his tomb.
Mayor Stoney began the official cleansing on July 1 using a declaration of a local emergency that City Council informally supported but has yet to officially ratify as required by state law.
Under the supervision of Richmond sculptor Paul Di Pasquale, an expert crew has removed the Monument Avenue statues of Thomas "Stonewall" Jackson, Matthew Fontaine Maury and J.E.B. Stuart, along with two cannons that marked Confederate defensive positions and the statue in Church Hill.
Work also is beginning to remove some of the figures on the pedestals to which the statues were attached, including the globe on the Maury statue saluting the Confederate naval commander for pioneering work on ocean currents and weather forecasting.
Of the 11 city-owned Confederate items, protesters previously toppled the Monument Avenue statue of Confederate President Jefferson Davis, as well as a statue of Gen. Williams Carter Wickham in Monroe Park and the Richmond Howitzers statue at Park and Harrison streets on the Virginia Commonwealth University campus.