More college football shaken up by COVID-19
7/23/2020, 6 p.m.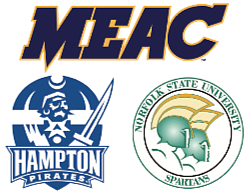 College football continues to take a beating from the coronavirus.
Norfolk State and Hampton universities won't be playing football this fall because of the COVID-19 pandemic.
The Mid-Eastern Athletic Conference, or MEAC, of which Norfolk State University is a member, has canceled all fall sports for 2020.
Big South Conference member Hampton University independently has announced the cancellation of all sports this fall, while other Big South affiliates are taking a wait-and-see approach.
In the case of NSU and HU, there is optimism that football, a traditional fall sport, can be moved to the spring, with practices likely starting in February and games in March, April and May.
Earlier in July, the CIAA made a similar announcement, canceling football for the fall. CIAA members include Virginia Union and Virginia State universities.
Also pulling the plug on fall football is the Colonial Athletic Association, or CAA, which includes the University of Richmond, the College of William & Mary and James Madison University.
JMU is among schools searching for a way to play an independent schedule this fall.
It remains unclear if there will be any NCAA playoffs for a spring season.
NSU and Hampton compete in the NCAA Football Championship Subdivision, or FCS. Virginia Union and Virginia State are in the NCAA Division II.
The Atlantic Coast Conference, or ACC, which is part of the Football Bowl Subdivision, or FBS, has yet to make an announcement about its fall sports. ACC schools include the University of Virginia and Virginia Tech.
The Old Dominion Athletic Conference, which includes Randolph-Macon College in Ashland and Hampden-Sydney College near Farmville, announced Tuesday that fall sports are suspended through the end of 2020.
As with the colleges, there is a possibility high school football could be moved to the spring.
High school fall football is in much danger, too.
The Virginia High School League will make an announcement Monday, July 27, regarding football and other fall sports.