George Floyd Hologram Memorial brings new light, tribute to Monument Avenue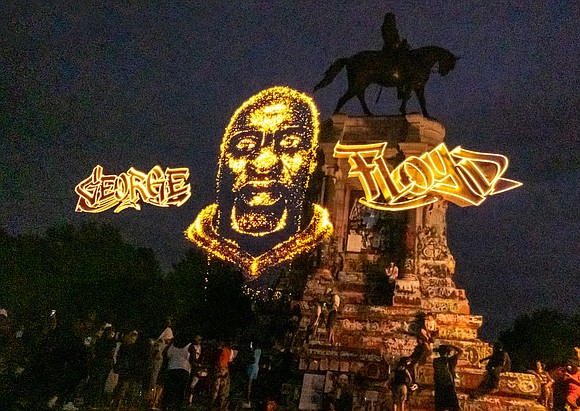 He said the hologram "unites people and affirms the Declaration of Independence."
Philonise Floyd was struck by the size, diversity and energy of the crowd.
"This is unbelievable right now. I feel love. I feel embraced by Richmond and the world," he said. "I am going to keep pushing. I don't want my brother's death to be in vain."
Richmond is the first stop on a Southern tour for The George Floyd Hologram Memorial Project, where the hologram can be viewed nightly through Aug. 6.
Like in Richmond, the hologram will be shown in places where Confederate statues stand or stood. It's a symbolic call to people to continue the fight for racial justice, according to organizers.
The hologram was designed by Kaleida Imaging and projected by a Virginia company, Quince Imaging.
Patricia Henley, a 25-year-old who lives in The Fan, brought her young son to the event because she wanted him to witness a historical event and expose him to the importance of the Black Lives Matter movement.
"I want my son to witness firsthand the beauty of all people," she said. "That will show him that all people are equal and you cannot judge people by the color of their skin."