City erupts
Death of George Floyd in Minneapolis prompts plans for reform by Mayor Stoney and Gov. Northam, including removal of Confederate statues on Monument Avenue
The statues of Confederate traitors are headed for removal from Monument Avenue — ending their long reign as white supremacist icons of Richmond that extends back to 1890.
The removals now in the works appear to be the first of the reforms to grow out of the seething unrest over racism and police brutality that has led to days of protests in Richmond and other cities.
The Free Press learned that Gov. Ralph S. Northam is to announce Thursday that the statue of Confederate Gen. Robert E. Lee will removed from its pedestal — now filled with spray-painted tags — and placed in safekeeping.
Separately, Mayor Levar M. Stoney announced Wednesday that he will join 9th District City Councilman Michael J. Jones to introduce legislation to remove the four other Confederate statues on Monument Avenue. Dr. Jones has been the leading advocate on City Council for removing the statues.
The mayor stated that the statue removal legislation, the first of several reform initiatives he plans to undertake, is to be introduced on July 1, the same day a new state law goes into effect allowing localities to take down statues of those who broke with the United States in the 1860s to create a separate nation to perpetually enslave black people..
The other statues include those of Confederate cavalry Gen. J.E.B. Stuart, Confederate President Jefferson Davis, Confederate Gen. Thomas "Stonewall" Jackson and Confederate Navy officer and renowned oceanographer Matthew Fontaine Maury.
Based on the work of a commission he formed in July 2017, the mayor previously supported only the removal of the Jefferson Davis statue and urged creation of contextual signage for the others.
However, in a statement released Wednesday, Mayor Stoney said that "times have changed, and removing those statues will allow the healing process to begin for many black Richmonders and Virginians. Richmond is no longer the Capital of the Confederacy — it is filled with diversity and love for all — and we need to demonstrate that."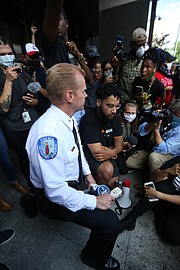 He noted that the change goes along with demands of protesters who during recent days have ensured the monument pedestals were "thoroughly spray-painted" and used them as launching pads for street marches demanding change.
The announcement of reforms aimed at what the mayor said would improve equity and change policy, were issued a day after Mayor Stoney and Police Chief Will Smith faced a raucous crowd of protesters to apologize for police tear-gassing people on Monday night.
Among the key reforms the mayor announced that he is backing:
• Enacting the Marcus Alert, named for 24-year-old Marcus-David Peters, a naked and unarmed public schoolteacher who was fatally shot when he charged a Richmond Police officer in May 2018 while experiencing a mental health crisis. The alert program that Chief Smith supports would allow city officers to bring in a mental health professional from the Richmond Behavioral Health Authority to help de-escalate such situations. The family of Mr. Peters has been advocating for such a policy since his death.
• Taking steps to ensure racial equity is a core component of the city government's policies and practices, a proposal 6th District Councilwoman Ellen F. Robertson put forward. Among other things, the initiative would include racial equity training for staff, departmental action plans and a study to provide a roadmap to improve inclusion and equity in city government, according to the mayor's statement.