City Council members call for ban on police use of tear gas, pepper spray as demonstrations continue
Jeremy M. Lazarus and George Copeland Jr. | 6/25/2020, 6 p.m.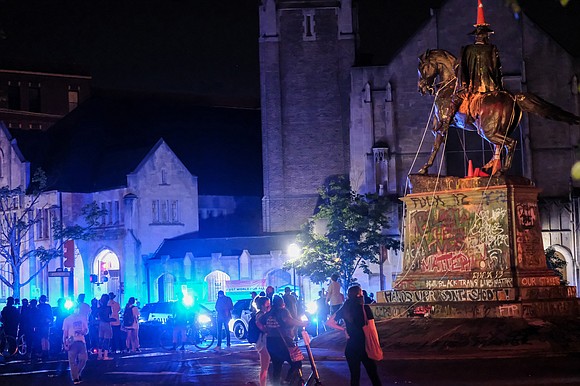 Ban the tear gas, pepper spray, flash bangs and rubber bullets that Richmond Police and their law enforcement partners have used repeatedly to disperse protesters clamoring against police brutality and racial injustice.
That's the cry from two Richmond City Council members who have witnessed the demonstrations and choked on the tear gas, and believe its use by police needs to end.
Ninth District Councilman Michael J. Jones and 5th District Councilwoman Stephanie A. Lynch plan to introduce legislation next Wednesday at a special meeting the full council is expected to hold.
There is no indication that a majority of City Council will support the legislation.
Both Dr. Jones and Ms. Lynch were persuaded to push for a ban after attending protests last week and choked and gasped for breath themselves when police fired tear gas to clear the demonstrators.
The Richmond protests have been going on for 26 days. Initially sparked by the police killing of George Floyd in Minneapolis, the local protests are now focusing on police violence and racial injustices in Richmond.
From what he witnessed, Dr. Jones said police are using tear gas to disperse "innocent civilians."
"There are other ways to de-escalate a crowd," he said.
Ms. Lynch said she saw police indiscriminately use tear gas on June 15 during the early morning and then later that night to disperse hundreds of loudly chanting protesters outside police headquar- ters on West Grace Street in Downtown.
She said tear gas during the nighttime assault was rained over a six-block area "far beyond where the protesters were." At one point, she and Dr. Jones had to duck when a canister whizzed by their heads.
She said the tear-gassing is not just impacting protesters, but also is wafting into apartments and homes and impacting people who are not involved.
She also witnessed police fire a volley of rubber bullets at protesters without provocation.
Ms. Lynch said police can use other non-lethal equipment to disperse crowds that does less damage.
She said use of the noxious chemicals and gas and rubber bullets have largely backfired, creating more anger among protesters. She noted the night protest on June 15 was a reaction to previous police assaults.
"I believe the police could do better if they were talking with people rather than attacking them," she said.
She also expressed disappointment that police statements about what happened do not mirror the events. For example, she said a police statement indicated that people were throwing rocks and bottles at officers on June 15 before the tear gas and rubber bullets were fired, but "I did not see any of that."
The most recent use of the chemicals came early Tuesday morning, when police dispersed a makeshift encampment protesters set up on Marshall Street in front of City Hall, blocking the street.
The camp was set up around 7 p.m. as a City Council meeting was in session. Participants were there to call for policy changes, includ- ing creation of a civilian oversight board for police; removal of Confederate statues; creation of a mental health response team to respond to certain emergencies instead of police; dismissal of charges against arrested protesters; and the release of the names of officers under investiga- tion for use of force.