Legal efforts continue against use of tear gas on peaceful protesters
Jeremy M. Lazarus and George Copeland Jr. | 7/2/2020, 6 p.m.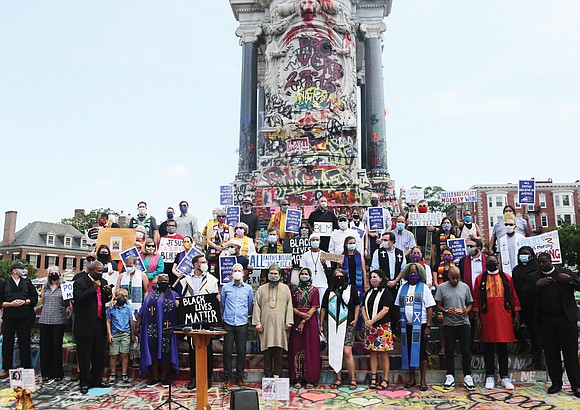 From marches to nighttime clashes and courtroom battles, the demand for racial justice and an end to police violence continues in Richmond — now the epicenter of Virginia protests and police actions to control the situation more than a month after they began.
On Tuesday, as Gov. Ralph S. Northam extended for 30 days a month-old emergency declaration in the city at the request of Mayor Levar M. Stoney, a Richmond Circuit Court judge upheld the authority of police to declare unlawful assemblies and to use tear gas, chemical deterrents and rubber bullets to disperse protesters.
Judge Beverly W. Snukals rejected the American Civil Liberties Union of Virginia's request for a temporary restraining order to halt such police actions as a violation of protesters' First Amendment rights.
In a written opinion, Judge Snukals stated that such a restraining order would represent "an unwarranted intrusion into and interference with the ability of law enforcement to do its job during an unprecedented period of civil unrest."
The ACLU, now engaged in a lawsuit to uphold the right of protesters to occupy city streets without interference, called the decision disappointing and expressed concern about "whether Virginians have a right to challenge in state courts unconstitutional police actions and violations of their civil rights under the Virginia Constitution."
The request for the restraining order was the opening skirmish in the lawsuit filed June 26 by the ACLU against the Virginia State Police, the Richmond Police Depart- ment and the City of Richmond for actions taken against protesters on June 22.
The case focuses on authorities' actions to disperse protesters who occupied the 900 block of East Marshall Street in front of City Hall during a City Council meeting and threw up a barricade to traffic as part of the takeover.
Hours later, around 12:40 a.m. June 23, police declared the protesters were engaged in an unlawful assembly and around 1:25 a.m. began firing tear gas, pepper spray and rubber bullets to disperse people who refused to move. Twelve people were arrested.
Before police moved in, participants who had dubbed the area "Reclamation Square" played music and instructed others on police brutality and inequality.
The ACLU lawsuit claims the peaceful occupation was protected by the U.S. Constitution's First Amendment right to assembly and to petition the government.
In a letter to Gov. Northam, Mayor Stoney requested the state of emergency in Richmond be extended because of the
continuing upheaval. He noted that peaceful protests were "evolving into unlawful assemblies during late night and early morning" hours.
While Mayor Stoney has not spoken of it, the Richmond Police Department has assigned him a protection detail based on death threats the mayor has received from people objecting to his plan to remove racist Confederate statues from city property.
Others organizations have joined the ACLU in condemning police actions to disperse protesters. As the court issued its decision on Tuesday, more than 40 faith leaders from Clergy Action RVA gathered at the Lee statue on Monument Avenue to speak out against police brutality and racism and authorities' ongoing effort to disrupt peaceful protests.