Business owners sweep up after vandalism
Ronald E. Carrington and George Copeland Jr. | 6/4/2020, 6 p.m.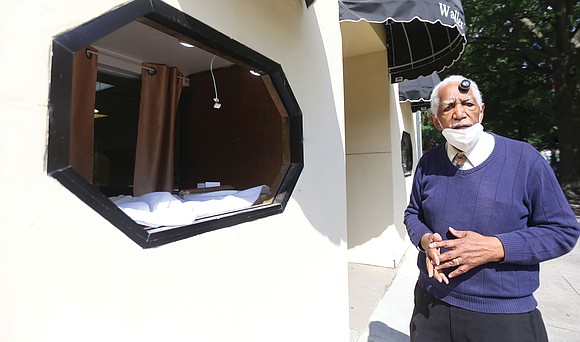 One of Richmond's oldest family jewelry stores is recovering from late-night looting and vandalism last weekend by rogue elements attached to local protests of the killing of George Floyd in Minneapolis.
Surveillance cameras showed that Waller & Co. Jewelers at 19 E. Broad St. suffered damage last Friday and Saturday when the shop's front window and inside jewelry cases were broken and merchan- dise was stolen, said Richard Waller Jr., owner of the 120-year-old business that has been in the family for four generations.
Mr. Waller and his son, David, were busy Wednesday morning taking inventory for insurance claims.
Mr. Waller said he is not sure yet of the value of all of the items that were stolen when the store was ransacked.
One family treasure, a 1922 display case, survived with its merchandise intact. He showed it off Wednesday, noting that he cleaned the case as a youngster when he started helping out in the shop that was founded by his grandfather, Marcellus C. Waller, in 1900.
"The family is happy vandals didn't touch it," he said of the display case. "We are going to be alright. This is just a bump in the road."
Mr. Waller recalled surviving past unrest in Richmond following the assassination of Dr. Martin Luther King Jr. in April 1968.
At the time, "looters came through the back of my store and took everything out of my only showcase," he said. The store was located north of Broad Street then, in a building rented from Barky's Record Store.
"We lived through it," he said.
Mr. Waller said his faith is keeping him strong and optimistic now. On Sunday morning, about 80 members of black sororities and fraternities showed up at the store to help with the cleanup. Mr. Waller said he and his family were surprised.
Because all the glass had been cleaned up, he said, "they helped the store by buying fraternity and sorority merchandise. One of the sorority members built us a GoFundMe page."
After the second night of vandalism, Mr. Waller posted a sign on the plywood covering the shop's broken windows. It said: "Waller & Co. Jewelers is a small black-owned business. Please don't break our windows. Thanks."
Other small businesses are working to salvage what remains and continue operations.
"I'm definitely trying to continue to go forward, but it took a toll," said Leonard G. Blue, president of Experimax of Richmond, an Apple computer sales and repair shop in the 1300 block of West Main Street near Virginia Commonwealth University.
Vandals broke in through the front of his store and stole computers in the shop for repair. "I'm just taking it a day at a time," Mr. Blue said.
The destruction and looting have been blamed largely on outside agitators, but nothing further has been confirmed. Some Richmond residents have been volunteering to help clean up and repair the damage where they can.
"I'm truly grateful to the community of the city of Richmond and the surrounding community for reaching out to us and making sure we're doing OK," Mr. Blue said.