From R&B to gospel, Barky's has changed with the times
4/24/2015, 9:52 a.m.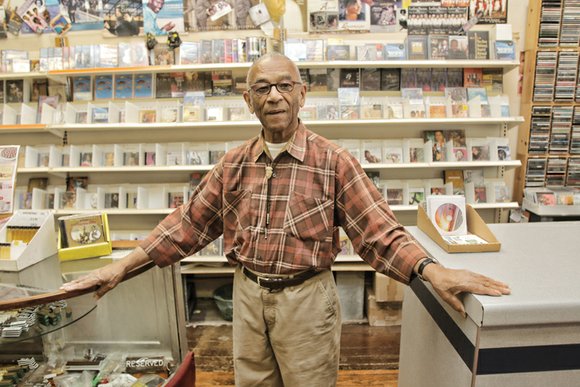 When Barksdale "Barky" Haggins opened Barky's Record Shop in 1956 in Downtown, some people were determined to see he didn't stay in business for long.
"White record distributors in Richmond wouldn't sell me records to stock the store," the affable entrepreneur recalls.
Undeterred, Mr. Haggins traveled by car to Washington or New York City once a month with about $400 and purchased as many records as possible to sell in his store, located at the time at 407 N. 1st St.
"Records cost about 59 cents back then and albums ranged from $1.98 to $3.98 for the most popular ones," Mr. Haggins said.
But two years later, one distributor realized he could make more money by selling to Mr. Haggins. But he "told me I'd have to come by his business early in the morning" so that white record store owners wouldn't see the transactions, Mr. Haggins recalled.
Nearly six decades later, Mr. Haggins, affectionately known as "Barky," still owns and operates his iconic music store. It is now named Barky's Spiritual Stores and located at 18 E. Broad St in Downtown.
As Barky's and about 1,400 other independent record shops across the nation celebrated World Record Store Day on April 18, the Free Press visited Mr. Haggins to discuss his recipe for success through the years.
While many of the record stores with which Mr. Haggins once competed have long since faded away, Barky's remains a testament to how a company can evolve through changing times, tastes and technology to meet the needs of customers and grow a loyal customer base.
At the event designed to laud the steadfast independents in the business, Barky's offered sales on hard-to-find CDs, DVDs and vinyl records.

Mr. Haggins was born and raised in the Carver neighborhood in Richmond and graduated from Armstrong High School in 1950. He now lives in Henrico County with his wife of 57 years, Joyce.
Mr. Haggins said he opened the store — with a focus on gospel and R&B — with money he saved in the Army, where he served from 1954 to 1956.
"The day I got home from the Army, my father, who had a radio and TV store in Downtown, asked me what I was going to do next?" Mr. Haggins said.
He said he opened the store to cater to the fast-rising popularity of African-American music being played on radios and elsewhere.
In 1968, he opened a second store at 109 W. Broad St. that catered to gospel music fans. When the store was destroyed in a fire, Mr. Haggins moved the business to its current location in 1993. He also decided to forego more contemporary genres and exclusively sell gospel music and church merchandise at the new store.
Many members of African-American churches in the city and surrounding counties have found a home away from home at Barky's.
"We're a ministry," Mr. Haggins said. "People come in here and it can turn into a church at any time. We have one man who comes here every day and we serve him communion. Some days, people come in here just to give testimonies."