804 Coaches for Change holds initial rally at Ashe statue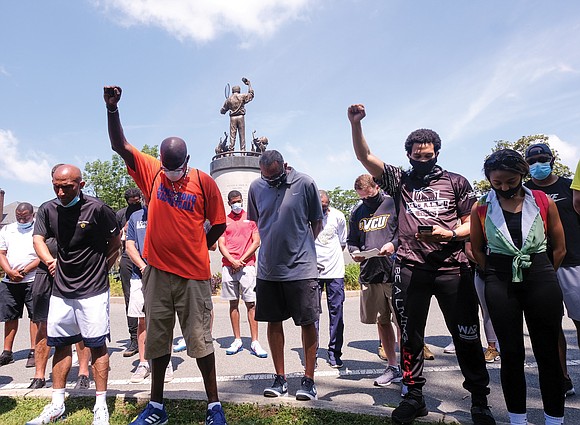 An energetic group called 804 Coaches for Change has its foot on the gas pedal with no thoughts of slowing down anytime soon.
"Our mission is to be a voice for change for our youths," said Chuck Moore, among the group's early organizers.
A band of coaches representing at least 100 schools and various sports met last Saturday at the Arthur Ashe Jr. statue on Monument Avenue. Following several speeches, the group marched in support of their athletes down Monument Avenue to the Robert E. Lee statue.
"A phenomenal turnout," Moore said of the organization's first public event.
In addition to Coach Moore of TPLS Christian Academy in Chesterfield County, speakers included Coach Darryl Watts of Armstrong High School, Coach Steve Lewis of St. Christopher's School, Coach Ray Bolton of Team Richmond AAU, Coach Delmar Harris of Collegiate School, Coach Ty White of John Marshall High School, Coach Mike Rhoades of Virginia Commonwealth University and assistant Coach Jason Williford of the University of Virginia.
Lt. Gov. Justin E. Fairfax also spoke.
Among the specific goals of 804 Coaches for Change are:
• Increasing and changing communication with authorita-
tive figures.
• Educating youths on voting rights and regulations.
• Changing how youths deal with and manage personal trauma.
• Opening communication lines in regard to racism, social injustice and inequality.
• Assistance and education with mental health awareness.
• Developing and increasing social skills.
The volunteer group has been meeting online via Zoom, with a meeting scheduled this week to form a board of directors and set dates for future rallies.