Internet radio stations flourish locally from the comfort of home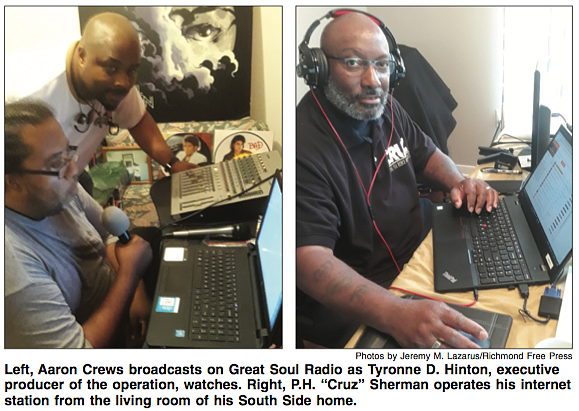 Homes in South Richmond have quietly been turned into radio stations that broadcast music and other offerings to thousands of listeners.
Armed with just a computer, microphone and a link to a streaming service, Aaron Crews and Tyronne D. "Tycool" Hinton pump out the music they love on Great Soul Radio at GreatSoulRadio.com.
Meanwhile, near Walmsley Boulevard, P.H. "Cruz" Sherman spends his spare time nurturing Cruz Inc. Radio 102.8 that also can be picked up via the internet on Cruzincradio.com
The stations are products of a broadcast revolution that has expanded radio offerings beyond the dial.
While many stations that have room on the dial also stream, the home-based stations in South Side are examples of stations started by individuals that operate by paying a monthly fee to companies such as Radio King and Live365. The companies use the fees to cover royalty costs and to provide other services, such a 24/7 broadcasting. It also allows the home-based stations to operate without needing a license from the Federal Communications Commission.
Mr. Sherman, a 58-year-old former minister and teacher who now develops databases for customers of a medical supply company, got involved in internet radio in 2010 after being invited to be a guest on a Houston-based station. The host encouraged him to start his own station.
He began with a talk show on BlogTalk Radio. He was able to get celebrities to come on and began attracting an audience. His station now features mostly music ranging from smooth jazz to gospel, but he also provides sports news, financial advice and information for variety.
Through the years, Mr. Sherman has recruited at least 30 volunteers who like the station to promote Cruz Inc. Radio on social media accounts. Team members also benefit when they recruit business sponsors and advertisers.
That was decision time, Mr. Hinton said. Eager to keep going, he created Great Soul Radio, which plays throwback jams, chart toppers and listener favorites. He now serves as executive producer of the operation, with Mr. Crews as a loyal partner.
He is an affiliate of Radio King, which has more than 3,500 stations. He's proud that his station ranks in the top 65 — sometimes in the top 55 — with an estimated 10,000 listeners a week.
For now, neither of the two stations, nor most of the niche stations others have created, has represented a threat to established on-air stations.
For Mr. Crews and Mr. Hinton, this is an opportunity to live out their dreams.
Growing up, Mr. Crews said he always admired the on-air personalities on local black radio stations such as WANT. He wanted to be like them, he said.
Mr. Sherman estimates that he likely would need an average of 50,000 listeners for the station to begin making money, a big jump.
That's also the case with Mr. Hinton.
And he cautions that getting on the air is easier than staying on the air. He points out that he spends many hours engaged in station management and marketing.
Now they have their own station and their own shows done via computers from their own homes.
They got their start on an internet station that eventually shut down.
"It sounds easy, but it is a lot of work," he said. "You have to be committed."