7-foot senior at The Steward School sees his basketball prospects growing
6/18/2020, 6 p.m.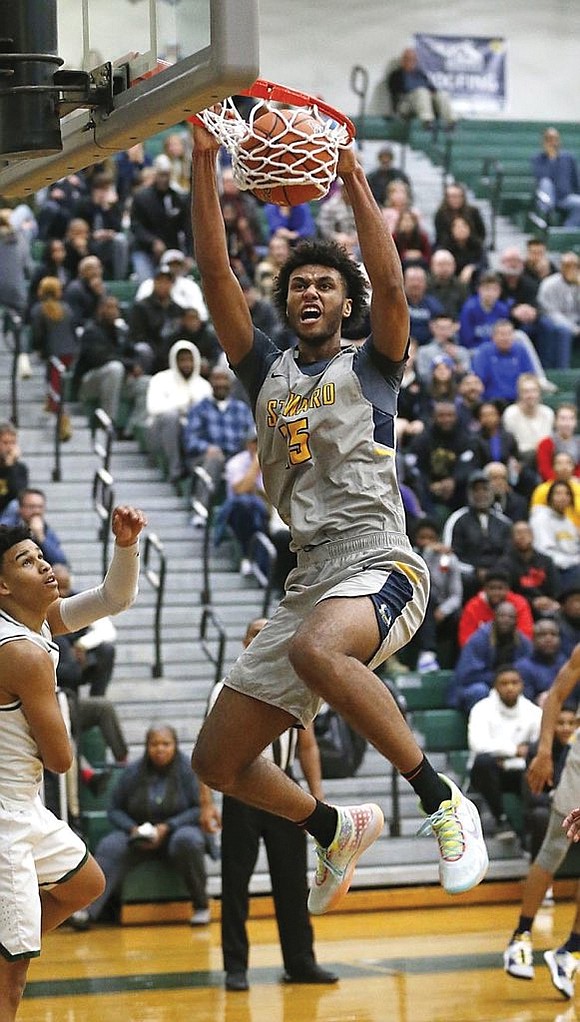 Efton Reid has grown out of all his old clothes while growing into being one of the nation's top college basketball prospects.
The 7-foot rising senior at The Steward School is a coach's dream but a tailor's nightmare.
"I can't go to regular stores," he said, noting he wears size 17 sneakers. "I have to order online. And there is a store in Short Pump (DXL Big & Tall) that has my length."
No matter how long Reid's arms, legs and feet are, or how much the 18-year-old continues to sprout, college coaches all over America would love to find one of their uniforms to fit him.
"Efton is a special player," said Steward School Coach Curt Kassab. "He has the work ethic and drive along with the size and talent. He has been fun to watch and fun to be around. We're all very proud of where he's at."
Reid has drawn rave reviews in playing both for Steward School and the powerful Team Loaded AAU travel team.
The son of Maria Reid of Eastern Hanover County is rated the nation's 17th overall high school basketball prospect by ESPN100, 20th by 247Sports. com and 24th by Rivals.
With the coronavirus limiting travel, Reid has made official recruiting visits thus far to the University of Virginia, Ohio State University and the University of Louisville.
He is considered a member of the Class of 2021, but that isn't set in stone, apparently.
Reid recently had a conversation with University of Michigan Coach Juwan Howard who may be offering Reid a scholarship as a member of the Class of 2020, meaning Reid would enroll at the Ann Arbor university this fall.
A recruiting visit to Michigan may be in the works.
"It's called classifying up," said Reid, who currently is taking one online class at Steward School. "It is something I'm considering but I haven't made up my mind."
While he has always been the tallest boy in his class, he hasn't always excelled on the hardcourt. In fact, he didn't even start as an eighth-grader on the Chickahominy Middle School team.
"I wasn't that good, but I kept my head down and kept working," Reid said. "I started to hit my stride when I came to Steward."
As a junior, Reid averaged 19 points and 12 rebounds, helping the Spartans to a 27-6 record and to the semifinals of the Virginia Independent Schools Athletic Association Division II state tournament. He shot more than 70 percent from the field, an impressive 41 percent from behind the 3-point arc and 67 percent at the foul line.
Well-muscled at 235 pounds, Reid is powerful in the paint, with soft hands and excellent footwork. A natural right-hander, he is nearly as proficient with his left hand as his right, making him that much more difficult to defend.
Reid and Coach Kassab, whom Reid calls "Coach K," arrived at Steward School at the same time three years ago. Previously, Coach Kassab had coached the Atlee High School girls in Hanover, had served as a women's assistant coach at Virginia Commonwealth University and most recently had coached the boys at Deep Run High School in Henrico.
"I didn't know Coach K, to be honest, before I got here" at Steward, Reid said. "But I trusted him from Day one. I put myself in his hands to develop."
Reid is named after his maternal grandfather and has a younger brother, Alex, who is a rising sophomore at Atlee High. Alex is about 6-foot-1 and plays basketball for the Raiders.
Away from class and the court, Efton and Alex enjoy fresh water fishing at various streams and ponds around the area.
"All I really do is work out and stay home," he said. "I like to hang out with family. That's about all I do."
Steward School, founded in 1972, is located on 37 acres in a leafy, affluent section of Western Henrico County. With just 630 students in grades pre-K to 12, its motto is, "Smaller is better."
That term applies to enroll- ment and class size, but with a 7-foot student on campus, certainly not to its basketball team.