Good impression landed former Hanover star a role with the Buffalo Bills
8/5/2016, 7:44 a.m.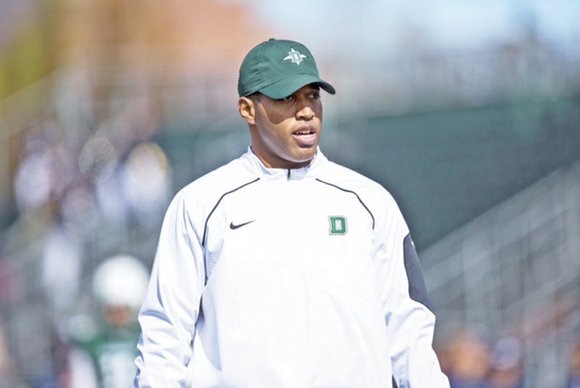 Making favorable first impressions sometimes can open doors of opportunity.  
As an assistant football coach at Dartmouth College, Jerry Taylor Jr.'s duties include escorting high school prospects and their parents on campus tours.
Among those prospects a year ago was a son of Buffalo Bill's President and CEO Russ Brandon, whom Taylor had never met.
"I guess I made an impression," Taylor told the Free Press in a phone interview.
"After the visit, Mr. Brandon offered me an internship with the Bills. I gladly accepted."
Between now and Aug. 11, Taylor, 29, will be working with wide receivers, including star Sammy Watkins, at the Bills preseason camp at St. John Fisher College in Rochester, N.Y.
Before heading to Rochester, Taylor prepped with other Bills coaches at Buffalo's Jack Wilson Stadium.
"Coach (Rex) Ryan had the whole staff over to his house for a cookout," said Taylor. "It was awesome. I've always watched the NFL from behind the scenes. Getting to hear Coach Ryan and other coaches tell their stories was surreal."
After Aug. 11, Taylor will return to Hanover, N.H., for his third season as receivers coach for a Dartmouth College squad coming off a 9-1 season.
Taylor was pivotal in the development of All-Ivy receiver Victor Williams and helped orchestrate an offense that averaged 29 points and 266 passing yards per game.
The son of Robin and Jerry Taylor Sr. of Mechanicsville was raised on a steady diet of pigskin.
"I grew up on the sidelines — literally," he recalled.
His father was a football referee for 20 years with the Virginia High School League, MEAC and the Arena Leagues and semipro teams.
"I went with my dad all the time," said Taylor. "It was high school games Fridays, college on Saturdays, then Sundays, we watched the NFL on TV."
In a play on words, his father quipped: "Jerry Jr. is Taylor made for football coaching. He's been following the game since he was 3 years old."
Before the younger Taylor was a coach, he was a talented quarterback at Lee-Davis High School in Hanover County, earning All-Capital District honors in 2005. He signed a scholarship offer with Bowie State University in Maryland, but played just one year at the CIAA school because of illness. He still takes daily medication for Graves' disease, an immune system disorder that affects the thyroid gland. He stresses that the condition does not limit him in any way as a coach.
Taylor also made an impression on Coach Latrell Scott, who as an assistant coach at Virginia Military Institute tried to recruit Taylor when he played at Lee-Davis High.
"The military wasn't for me," Taylor said of VMI. "But coach is really the one who got me started in coaching."
Like Taylor, Coach Scott is a Lee-Davis alumnus. He was head coach at the University of Richmond at age 34 in 2010. He then was head coach at Virginia State University in 2012 and 2013 and is now in his second season as head coach at Norfolk State University.
Coach Scott enabled Taylor to join his University of Richmond staff in 2011 and hired him a second time in 2013 at VSU. Taylor left VSU, a NCAA Division II school, in 2014 for the coaching spot at Dartmouth College, which is one peg higher in the FCS.
"Coach Scott is really someone I look up to. My ultimate goal is to be a head coach at a Division I school," said Taylor.
Five years ago, Taylor married his hometown sweetheart, Narissa Suber, who helped Hanover County's Atlee High School to the 2005 State Group AAA basketball title. Suber later played with her twin sister, Anora, at Drexel University.
Taylor met his future wife when he was quarterback for Lee-Davis High and she was shooting hoops for Atlee High.
Turns out, he must have made a great first impression on her, too.