NSU plays UR at Robins Stadium; HU takes on W&M at home
Fred Jeter | 9/9/2016, 6:25 p.m.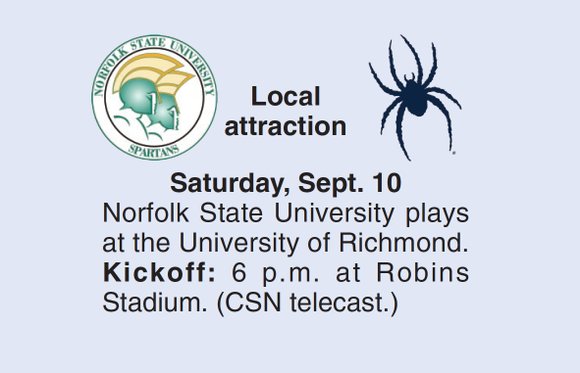 There was a time not so long ago when no man on earth wanted to see the University of Richmond win a football game more than Coach Latrell Scott.
This Saturday, however, Coach Scott will be wishing for a Spiders loss.
Coach Scott was UR's head coach in 2010. But now he is in his second season coaching Norfolk State University.
He will be both the visitor and heavy underdog when he brings his Spartans to what figures to be a packed Robins Stadium for a 6 p.m. kickoff.
Under Coach Danny Rocco, UR is coming off arguably its most impressive performance in program history. Last Saturday in Charlottesville, the Spiders dominated the FBS University of Virginia 37-20.
With that victory, UR is among the favorites to win the NCAA FCS title. The Spiders advanced to the semifinals a year ago before falling to North Dakota State University, the eventual champion.
Meanwhile, NSU's Green and Gold doesn't seem to be traveling in top gear.
The Spartans struggled mightily to defeat NCAA Division II Elizabeth City State University 20-12 last Sunday before 11,780 fans in the Labor Day Classic. The annual event at Dick Price Stadium in Norfolk was moved to Sunday because of concerns with Hurricane Hermine.
NSU quarterback Greg Hankerson passed for 151 yards and two touchdowns, and running back Quintreil Chung, from James River High School in Chesterfield County, ran for 81 yards and a touchdown.
Coach Scott, an alumnus of Lee-Davis High School in Hanover County and Hampton University, was just 34 when UR made him the youngest Division I head coach in America in 2010.
The Spiders went 6-5 in his first season.
Then less than one month prior to the 2011 season, Coach Scott resigned from UR after being charged with driving a car while intoxicated. Since then, Coach Scott served as an assistant coach at James Madison University in 2012 and head coach at Virginia State in 2013 and 2014.
Coach Scott's Spartans, while 1-0, aren't heading to Richmond with much momentum. In surviving the Division II, upset-minded CIAA Vikings of Elizabeth City State, NSU was outgained 362 yards to 321.
NSU went 4-7 overall and 4-4 in MEAC a year ago under Coach Scott.
While UR has never played NSU, the Spiders have been tough on other HBCUs.
In 2005, UR defeated Hampton University 38-10 in the NCAA Division 1-AA playoffs. In 2014, UR topped Morgan State University 46-24, also in the playoffs.
However, last September, UR had to surge from behind to defeat home-standing Hampton University 31-28.
UR has an abundance of African-American athletes, but that wasn't always the case. In 1971, running back Weldon Edwards became the first African-American to play for the Spiders after starring in football and track at Richmond's Maggie L. Walker High School.
◆
In another game moved to last Sunday because of the weather threat, Hampton University was trounced by Old Dominion University 54-21 before 20,118 fans at Foreman Field in Norfolk.
David Washington tossed four touchdown passes for the FCS Monarchs of Conference USA.
Yahkee Johnson, a former L.C. Bird High School star, rushed for 59 yards on 11 carries in his first game for the HU Pirates.
Johnson is the brother of Indiana University starting basketball guard Robert Johnson.
HU will play host to the College of William & Mary at 6 p.m. Saturday, Sept. 10, at Armstrong Stadium.