NSU's Scott defeats his alma mater, HU, to win Battle of the Bay
10/2/2015, 9:01 p.m.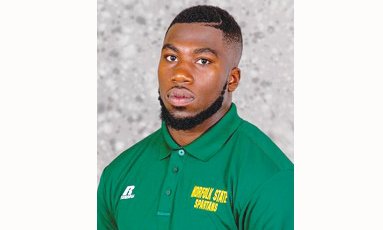 For probably the first time in his life, Coach Latrell Scott wanted his alma mater, Hampton University, to lose a football game.
It's easy seeing why.
Coach Scott of the HU Class of 1998 is now the first-year coach at HU's next door rival, Norfolk State University.
In the 53rd edition of the Battle of the Bay played Sept. 26, Coach Scott's Spartans defeated Hampton 24-14 at a rainy Dick Price Stadium at NSU.
An enthusiastic crowd of more than 15,000 usually turns out in Norfolk and Hampton for the annual battle for bragging rights.
This year's attendance was just 6,549, primarily because of the inclement weather.
Yet nothing dampened Coach Scott's spirits as he picked up his first NSU victory after three straight road losses to Rutgers, Old Dominion and Marshall universities, all of the higher FBS Division. The Spartans and the HU Pirates compete in MEAC, an affiliate of the second-tier FCS Division.
Prior to taking over at NSU, Coach Scott posted a 19-3 record in two seasons at Virginia State University. He inherited a brutal early season schedule.
Two Richmond area athletes spurred the NSU offense.
Gerard Johnson, a former star at Chesterfield's Meadowbrook High School who transferred to NSU from Old Dominion University, rushed 20 times for 119 yards and a touchdown.
Quintrell Chung, a freshman from Henrico County's James River High School, punched in two touchdowns.
Hampton quarterback David Watford, a transfer from the University of Virginia, hit 21 of 44 passes for 180 yards.
On Saturday in MEAC play, NSU travels to Howard University for a 1 p.m. game in Washington, while HU will return to Armstrong Field to host North Carolina A&T State University at 2 p.m.