John Marshall High wins 2A state championship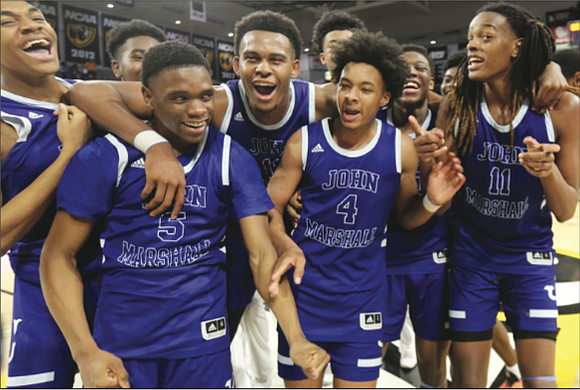 John Marshall High School's statewide domination of boys' basketball doesn't figure to end any time soon.
The Justices won the state 2A basketball championship with relative ease, dispatching Gate City High School 75-57 in the March 12 final at Virginia Commonwealth University's Siegel Center.
John Marshall, finishing 24-2, prevailed with only one senior starter – Elijah Seward – and one senior backup – Raymont Lynch.
"We set high standards," said Coach Ty White. "Our goal is always the state championship."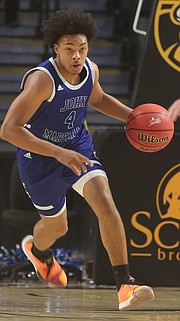 The Justices won the 2014 and 2018 state crowns in Division 3. This was first season the team has played in Division 2. The divisions are based on a school's enrollment.
John Marshall's most talked about player is 6-foot-10 junior center Roosevelt Wheeler, but 6-foot junior guard Jason Nelson and 6-foot-6 freshman forward Dennis Parker aren't far behind.
Wheeler figures to rank among the top big man prospects nationally in the Class of 2021. Already, he has taken recruiting trips to the University of Louisville, North Carolina State University and VCU.
Wheeler settled for 11 points, nine rebounds and three blocked shots against Gate City. His long-stemmed inside presence pretty much eliminated any inside scoring by the Gate City Blue Devils.
Nelson, a transfer from Varina High School, is a do-it-all combo guard who can score inside and out and knows how to distribute and break down a defense.
"Jason is a very smart player," Coach White said. "He knows when to shoot and when to pass."
So far, Nelson has visited the University of Richmond and Vanderbilt University.
Nelson comes from a winning background. His father, Jason Nelson Sr., was a member of Virginia Union University's 2005 NCAA Division II championship squad.
One can't help but notice Parker's exceptional talent. The varsity newcomer appears comfortable at any position on the floor. His only fault, if you can call it that, is that sometimes he gets a bit carried away.
Parker drew one technical foul for hanging on to the rim following a dunk, and was dangerously close to a second for a similar violation.
Seward, the left-hander with the picture perfect 3-point release, hit three 3-pointers and had 17 points in his career ender. Lynch, an all-round talent with serious hops, had five points and four rebounds.
Undecided on his college choice, Seward has scholarship offers from Virginia Union and Virginia State universities.
All of the Justices' success came this season despite losing five seniors off last year's squad who earned college scholarships.
It seems there's no end to John Marshall's talent pool. Its junior varsity team this year was 18-4.
John Marshall's relentless defensive pressure took its toll on Gate City, whose senior guard, Bradley Dean, had 32 points. But it took him 32 shots to get it, and he was charged with five turnovers.
Dean finished 13-for-32 from the field, 4-for-14 from behind the arc. Every move Dean made on the court was contested by one or more Justices.
"Our game plan was to make him work," Coach White said.