John Marshall High wins 2A state championship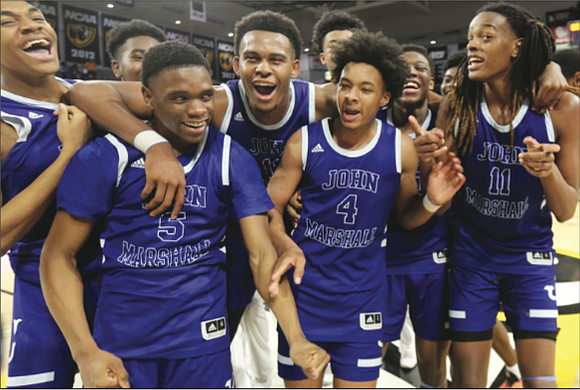 The Justices barely tapped the breaks in rolling through the region and state play. The Justices' six postseason wins came by an average 37-point differential.
In a postgame news conference, Gate City Coach Scott Vermillion criticized John Marshall for its close relationship with Team Loaded AAU, a travel offseason program that Coach White oversees.
Coach Vermillion did not say John Marshall was doing anything against the rules, only that Team Loaded was serving as a quasi-feeder system for the Justices.
"I'd like to see where those kids (from John Marshall) were born, grew up ... what feeder schools they came from," Coach Vermillion said.
Coach White chose not to engage in that controversy.
"I didn't like the narrative because it was taking away from the kids – on both sides – who played a great game," Coach White said. "Those kids needed to be celebrated at that moment. Gate City has a super program.
"If Coach Vermillion wants to discuss the subject, I'd prefer he do so with me in a private conversation."
John Marshall finishes with 19 straight vic- tories. The team's only defeats were 70-69 on Dec. 27 to McEachern High School of Georgia, and 66-55 on Dec. 21 to Sierra Canyon School of California.
At last look, Sierra Canyon was 30-4 and McEachern was 22-6.
Typically, John Marshall plays a rugged schedule in November and December against nationally prominent opponents in high-profile tournaments and showcase events.
Traditionally, the state tournament should provide the toughest challenges for a team. In John Marshall's case, the state is likely the softest part of the schedule.
John Marshall High versus Gate City High was the last game played during the state tournament. The Division 3 through 6 finals were canceled because of the coronavirus crisis, with co-champions declared in those classes.
"I guess the coronavirus came one day too late to save us," Coach Vermillion said with a laugh.
It was an eerie sight exiting the Siegel Center in the late afternoon on March 12. Instead of all the excitement normally associated with state finals, workmen were cleaning up. Everyone was going home.
The old Willie Nelson song came to mind: "Turn out the lights/The party's over."
That is, until next season, when the Justices figure to kick up their heels again.
Richmond royalty
Here's a list of state titles won by Richmond Pubic Schools' boys' basketball teams since the merger of the Virginia Interscholastic Association and the Virginia High School League in 1969:
• Group AAA: Maggie L. Walker High School, 1971 and 1976
• Group AAA: Thomas Jefferson High School, 1975
• Group AAA: Marshall-Walker Complex, 1982 and 1983
• Group AAA: Jefferson-Huguenot-Wythe Complex, 1984
• Class 3: John Marshall High School, 2014 and 2018
• Class 3: George Wythe High School, 2015
• 2A: John Marshall High School, 2020