Richmond schools closed until April 13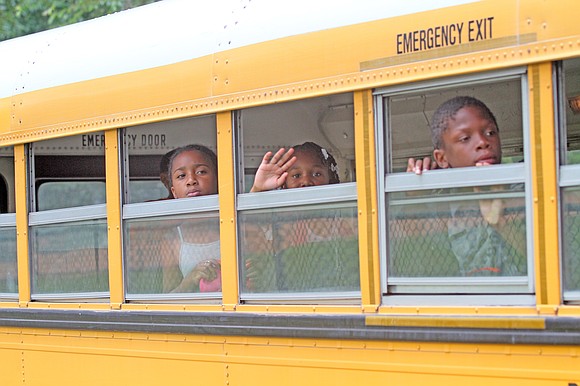 Richmond Public Schools will be closed for an additional two weeks through spring break, reopening Monday, April 13, because of the coronavirus pandemic.
Superintendent Jason Kamras made the announcement at the Richmond School Board meeting Monday night, noting, "This is an unprecedented time as we navigate the current situation."
The schools will be closed for students and staff. The superintendent, his senior staff, school principals, principal directors and custodians will remain on the job, however.
Students were given learning activities packets when schools closed on Friday, March 13. If they did not get the packets, officials said families can pick them up at the food distribution centers.
Additional learning activities for students at all levels also are available on the RPS website under Learning at Home Resources, www.rpstech.org/parents.html.
Students will not be graded during the closure, officials said.
Last week, Gov. Ralph S. Northam ordered all Virginia public schools closed for two weeks beginning Monday, March 16, in an effort to contain the spread of the virus. That would have reopened schools for one week before spring break was to start on April 6.
Under Mr. Kamras' directive, schools will be closed for the next four weeks through the spring holiday.
Neighborhood food distribution centers
Neighborhood-based food distribution centers are open 9:30 to 11 a.m. Monday through Friday at 15 locations around Richmond.
East End
• Fulton - Miss Girlee's Parking Lot, 4809 Parker St., #1520
• Creighton Court - Management Office, 2101 Creighton Road
• Fairfield Court - Management Office, 2506 Phaup St.
• Mosby Court - Management Office, 1543 Coalter St.
• Whitcomb Court - Management Office, 2302 Carmine St.
West End
• Randolph - Fifth Baptist Church, 1415 W. Cary St.
• Maymont - Amelia St School Parking Lot, 1821 Amelia St.
North Side
• Bellevue/Pine Camp - Parking Lot, 4901 Old Brook Road
• Battery Park - Gate Oaks Apartment Complex, 2907 Chamberlayne Ave.
• Gilpin Court - Management Office, 1000 St. John St., Richmond, VA 23220, Brookland Park - Hotchkiss Field Community Center, 701 E. Brookland Park Blvd.
South Side
• Bellmeade - Recreation Center, 1800 Lynhaven Ave.
• Hillside Court - Recreation Center, 1500 Harwood St.
• Chippenham & Hull St - Timbercreek Apartments, 2200 Chateau Dr.
• Belt Blvd. & Hull St.- Southwood Leasing Office, 1200 Southwood Pkwy.
All RPS employees – full time and part time – will continue to be paid during this time, officials said Monday night. That includes hourly workers as the School Board approved allocating funding for the maximum possible hours for such workers during the school closing.
"The closing could be longer than after spring break," Mr. Kamras said, acknowledging that "the extension will put additional stress on families ... in terms of child care, having food, as well as other day to day realities. However, it is important to let them know now so they can plan for the future."
RPS has opened 20 food distribution centers from 9:30 a.m. to 12:30 p.m. Monday through Friday at various schools where families can pick up breakfast and lunch for their children.
On Wednesday, an additional 15 sites in neighborhoods around Richmond also were opened for families to pick up meals from 9:30 to 11 a.m. Monday through Friday.
Many of the school-based food distribution centers had light turnout on Monday when they first opened, as the word was starting to filter out and parents were trying to find the exact locations. For example, at Chimborazo Elementary, food could be picked up in the rear of the school, while at Ginter Park Elementary, the pickup point was at the side entrance and for others, the schools' front lobbies.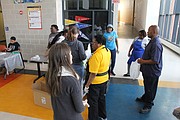 Carver Elementary School was added Wednesday as a food distribution center, while Henderson Middle School was removed because of road construction.
Mr. Kamras said the administration is working with partner agencies to deliver food to families that have difficulty getting to the distribution centers because of a lack of transportation or child care.
"As we get into next week, the administration will know if there may be any meal short- ages. The district has alerted the city and partners that additional support may be needed in get- ting resources for our families," Mr. Kamras said.
During the meeting, the board approved a $533,000 budget transfer for deep cleaning supplies and services for all schools because of COVID- 19, as well as an additional $250,000 for nurses for special needs children through June 30, the end of the current fiscal year.
The board also approved a resolution by board member James "Scott" Barlow, 2nd Dis- trict, authorizing Mr. Kamras and board Chairwoman Linda Owen, 9th District, to make transfers of up to $1 million without a vote of the entire board. Any transfers can be halted, however, if at least two board members object.
The emergency resolution can be removed by a majority vote of the board or when the COVID-19 state of emergency is lifted by federal, state and city officials.
"I do hope people watching, as we respond to this crisis locally, have a better under- standing as we go through this process of the integral role RPS and other school divisions play in our communities," Mr. Barlow said.
"We are not just an educational agency," he said. "We supply nutritional and emotional support for our students and are likely more in touch with the needs of families than other agencies."