Faces of leadership: Virginia Health Commissioner M. Norman Oliver is on front line of fight
Jeremy M. Lazarus | 3/26/2020, 6 p.m. | Updated on 3/27/2020, 11:13 a.m.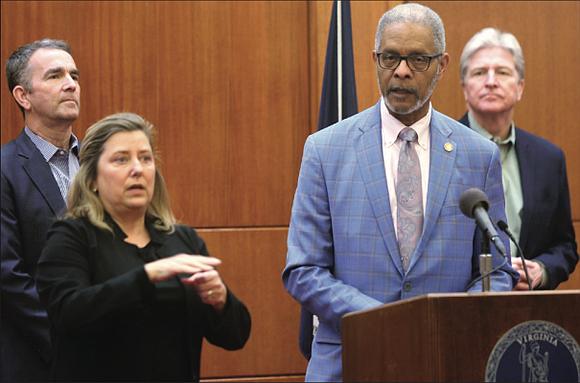 "The health of our residents and the community is our top priority."
So said Dr. M. (for Mohammed) Norman Oliver as he faces his biggest test as Virginia health commissioner in dealing with the coronavirus that has upended normal life.
A native of Detroit, Dr. Oliver, 69, is on the front line in the fight. As commissioner, he deploys more than 3,700 public health workers in seeking to ensure Virginia has adequate resources to treat the infected, to identify those that the ill were in contact with, to increase testing for the disease and to spread accurate information to Virginians to help people protect themselves.
A longtime professor of family medicine at the University of Virginia School of Medicine, Dr. Oliver has led the Virginia Department of Health for nearly two years.
He became acting commissioner in April 2018 after Dr. Marissa Levine resigned the top post, and two months later, Gov. Ralph S. Northam named him as commissioner.
Dr. Oliver runs a department that promotes public health in a state that the website QuoteWizard has named the best prepared among the 50 states to deal with disasters and public health emergencies, based on public health funding, water security, patient safety programs and hospital preparedness rates.
On Feb. 7, a month before the first case of coronavirus was diagnosed in Virginia, Dr. Oliver declared the virus a public health threat. He joined the governor on March 12 in issuing a state of emergency as the number of cases in the Commonwealth began to grow exponentially.
He has been an essential part of the pandemic task force that supports Gov. Northam's orders increasing shutdowns of schools, business and public and private concerns in a bid to block the spread of coronavirus.
As Dr. Oliver seeks to deal with this threat to public health, he is surrounded by seasoned veterans who have dealt with past contagions and emergencies, including Dr. Parham Jaberi, deputy commissioner for public health and preparedness; Dr. Laurie Forlana, deputy com- missioner for population health; Dr. Lilian Peake, the state epidemiologist; and Robert W. Hicks, deputy commissioner for community health and local health departments.
Dr. Oliver's focus in medicine has been on increasing equity in health care, with emphasis on removing the racial discrimination, biases and prejudices that too often underlie differences in care.
He is credited with leading the transformation of the U.Va. Hospital clinics into patient-centered practices and with helping other physicians understand the impact that implicit biases can have on service to those who are ill or injured.
A former medical journalist, he shifted gears and entered medical school at age 40. He graduated from the Case Western Reserve University's medical school in Cleveland, Ohio, where he studied family medicine and also earned a master's in medical anthropology.
His first experience as a physician was treating people in rural Alaska.
In 1998, after two years, he left Alaska to become a professor in the Department of Family Medicine at U.Va. He later was appointed to an endowed professorship and rose to become chair of the department in which he served as a teacher and physician for 17 years.
He joined the state Health Department in 2017 as the deputy commissioner for population health, which focuses on identifying diseases and their spread. As a member of the leadership team at VDH, he has sought to use his research and experience to raise awareness and understanding of the health disparities that are fueled by racial and ethnic biases and to develop effective interventions to reduce or eliminate them.
He has continued to make that a goal of his work as commissioner.